This month's nutritional spotlight post is 5 tips for living with interstitial cystitis.
At the beginning of 2017, I was diagnosed with interstitial cystitis (IC). Most of you probably aren't familiar with the condition, but it is also known as painful bladder syndrome (PBS), bladder pain syndrome (BPS), and chronic pelvic pain. Surprisingly, new research shows that 3-8 million women in the United States may have IC, which equates out to about 3-6% of all women. 
According to the Interstitial cystitis association
[IC] is a bladder condition that usually consists of multiple symptoms. Most IC patients have recurring pelvic pain, pressure, or discomfort in the bladder and pelvic region, and urinary frequency (needing to go often) and urgency (feeling a strong need to go).
If any of you have had a urinary tract infection (UTI) in the past, I believe the symptoms are very similar. During a "flare up" it essentially feels like you're living with a UTI, but without the infection present.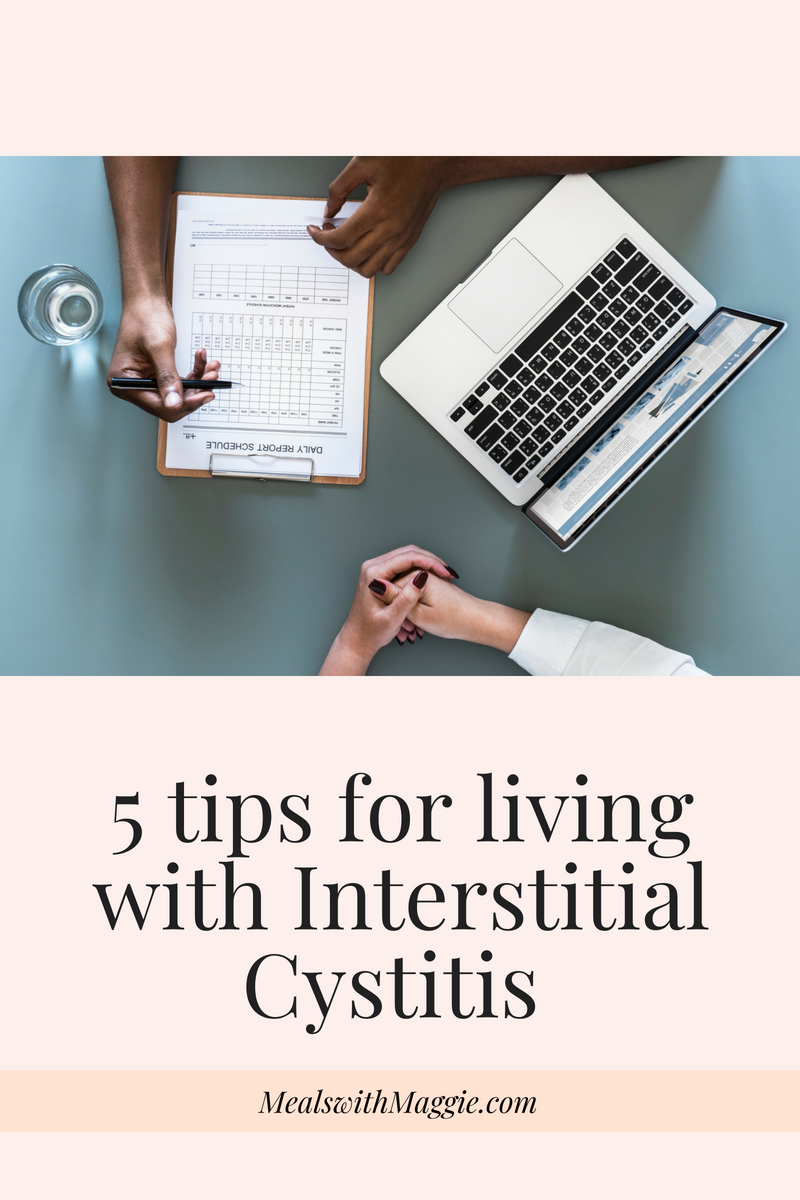 The way I was diagnosed with IC was through a scope in which they pushed water into my bladder and took pictures of my bladder walls (cystoscopy). This would enable the physician to tell if it my bladder walls had ulcers (ulcerative IC) or not. Thankfully, mine was non-ulcerative, which makes up of 90% of the IC patients.  
This condition came out of left field for me. My physician told me it was common for the on-set to occur for women in their late 20s or for women entering menopause. I want to preface that I had heard of IC prior to my diagnosis, due to the fact that it is encouraged to restrict certain food groups that may be your "trigger foods" that could cause inflammation of your bladder, causing a "flare up." My physician handed me some handouts on foods that are common triggers, told me that most of her patients go into a "remission" in which they don't have regular flare ups, or some never again have them by following these particular restrictions. 
Now guys to me, at 25 years old, this was the worst thing ever. This list includes a TON of food, soy,  alcohol, spices, sauces, and vinegars...the whole nine yards. It is categorized by "Bladder friendly," "Try it," and "caution," all of which I went through an elimination diet to see which foods set me off.
For a foodie like me and my wedding coming up that summer, it was hard for me. Not to mention our honeymoon in Jamaica that would be filled with all the tropical fruits and drinks that should be restricted for IC patients. It was a big adjustment, but I tried to keep reminding myself that other people have it WAY worse than I do. 
After being diagnosed, the next few months were trial and error. I reached out to some people who I knew also had it, which gave me hope and helped my sanity. I've narrowed it down to a handful of trigger foods that I avoid at all costs. If I do happen to have some of the food on a rare occasion, I immediately chug water (It seems to help with flushing it through). 
Some of my trigger foods include: 
Yogurt, bananas, tomatoes, strawberries, any citrus fruits such as oranges, pineapple, kiwi, grapefruit, coffee, tea, certain types of alcohol, wine (certain kinds), cranberries, cherries, strong vinegar things (depends), pickled items, citric acid (preservative) and more that I'm discovering as I go. 
The reason for this post is to inform you that interstitial cystitis is common and that If you have chronic UTIs (without infection noted) maybe you could be experiencing a "flare up" and I encourage you to speak with your gynecologist or urologist.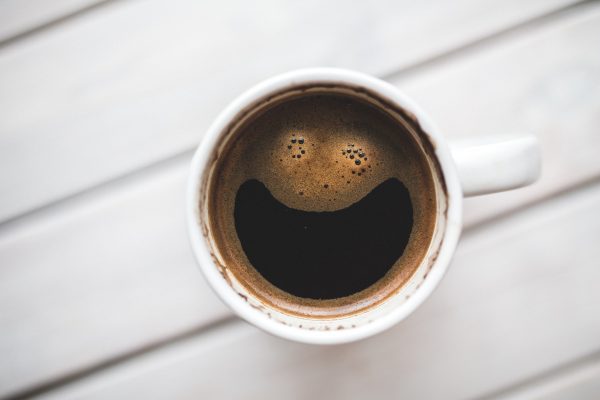 I wanted to share a couple helpful tips and tricks that I have learned within the past year and half that I feel like have helped me. I have learned from this process is that everybody is different. Some trigger foods for me might not be the same for others. So keep that in mind if you have IC and are trying out new foods.
5 tips for living with interstitial cystitis
Drink at least 3 glasses of water before you do anything. This one is probably the most important. I've found even if I eat breakfast without drinking water beforehand, my bladder will start to feel sensitive, similar to a flare up coming on. So I make it a habit of doing this, plus it keeps me hydrated and helps to wake me up in the morning.

 Water will be your best friend if it isn't already. I always keep a

camelbak

water bottle on me at all times. 

Find a low-acid coffee to keep you sane. One of my hardest things to give up was coffee.  I love the morning ritual of coffee, health benefits and honestly how productive I am after drinking it. A few months after being diagnosed, I decided to venture to some low acidic coffee brands. Here are a couple that I've enjoyed,

Four Sigmatic coffee,which produces a mushroom based coffee. Not only do I love the earthy flavor, I feel really energized without the jitters. I only have 1 cup in the morning, after my water intake and continue to drink water as I drink the coffee. I am an affiliate for four sigmatic, so if you do want to buy something from them you can enter code: Mealswithmag for 20% off.

 

Find the perfect alcoholic drink: This one is a continuing learning curve with me. My go-to is a Tito's or a high end vodka with club soda and absolutely no lime or lemon garnish. I repeat no lime or lemon! I am not a huge beer drinker as is. When I do drink beer I only like the fruity kind, which is sometimes not the best decision since it is almost always made with oranges or strawberries. I've read on some forums that low sulfite wine is supposed to be better for your bladder and cause less inflammation, but I've bought a couple (granted they were from Trader Joe's) and they made no difference.
Buy fresh food and make your own salad dressing: Many processed foods contain soy or citric acid and when I am in a flare-up this is no bueno for me. I also avoid any foods with artificial sweeteners or vitamins, as these can irritate my bladder.
Live your life and don't be afraid to eat and try new foods: The first few months I had so much anxiety about trying foods I used to love but wasn't sure how it was going to sit with me now. And you know what? I flared up then I chugged a few glasses of water took an AZO pill and got through it. It's all part of growing and learning how my body will respond. Life is too short not to indulge in a glass of wine or two sometimes. I just make sure I hydrate heavily in-between 🙂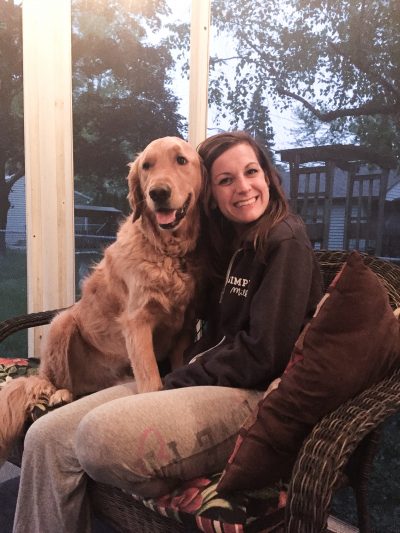 Let me conclude by stating that I am no expert in interstitial cystitis, I can only share what I've been through. Every trigger can be different from person to person with IC, so best advice is to work with your physician, figure out what is best to help with the pain and try an elimination diet for the list of caution foods.
Do you have IC? What are your trigger foods? I would love to know to help share knowledge and experience!
SaveSave
SaveSave
SaveSave
SaveSave
SaveSave
SaveSave
SaveSave