Pour this red pepper sauce all over a cauliflower steak for a saucy tasty meatless dish! Served on a bed of lentils with capers and mint, you won't believe it's vegan and gluten free.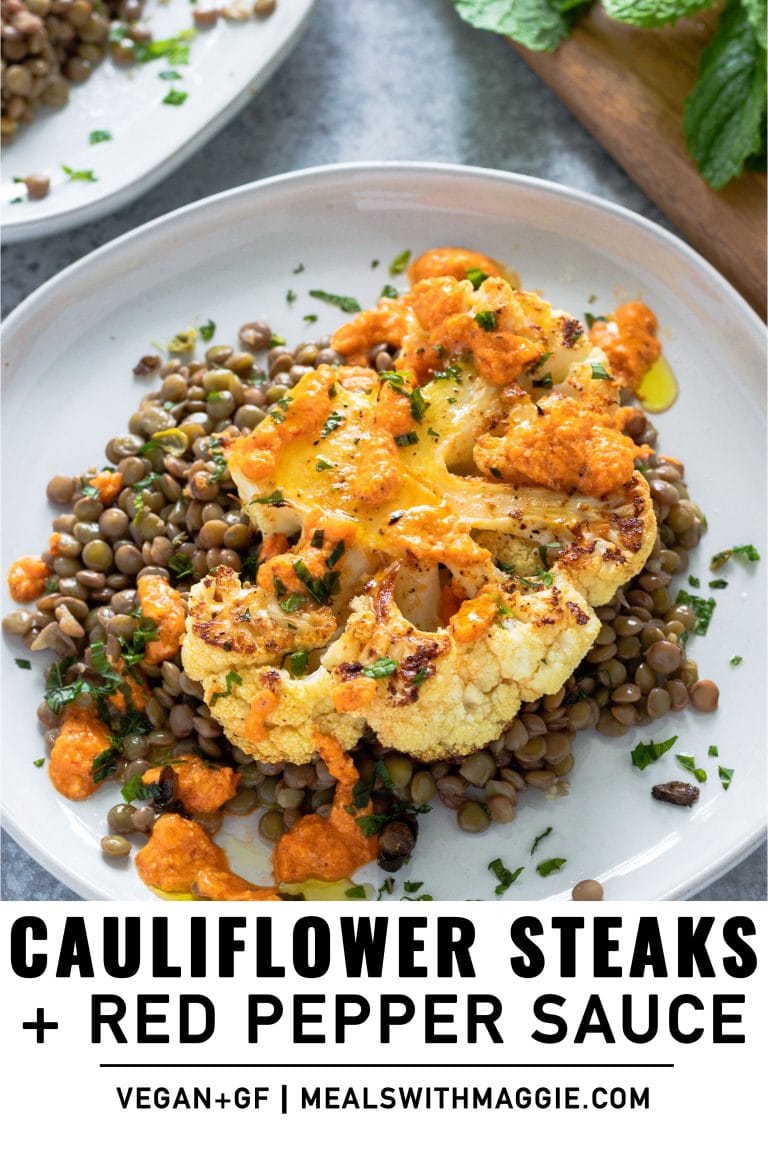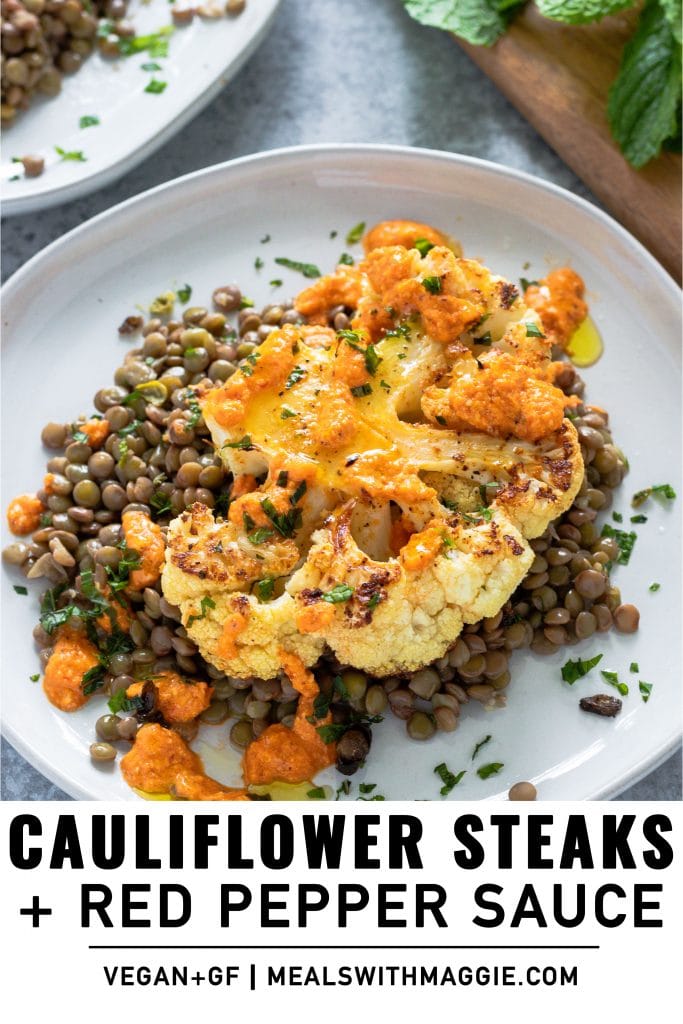 As I write this post my dog, Breslin is breathing on my keyword and wants to go to the park. Feeling major "mom guilt" right now. I know, I know "he's just a dog" but anyone who says that obviously doesn't have a dog.
Moving along, I am SO excited to bring you these cauliflower steaks with lentils and red pepper sauce. This recipe was developed a little bit out of luck. I didn't mean to buy mint at the store and I happened to have a jar of roasted red bell peppers in the fridge so I just started throwing things together. I had to remake it a couple times and have some people at work taste it but all the feedback came back positive!
PS: If you love lentils--I love this quinoa lentil salad for quick lunches in the summer!
Red Pepper Sauce
Before we jump into the cauliflower steak part, I wanted to give this red pepper sauce a chance to shine. First off, it's extremely easy to make. Ready for the ingredients?
½ jar of roasted red bell peppers
¼ cup of plain raw almonds
2 tbsp EVOO for drizzle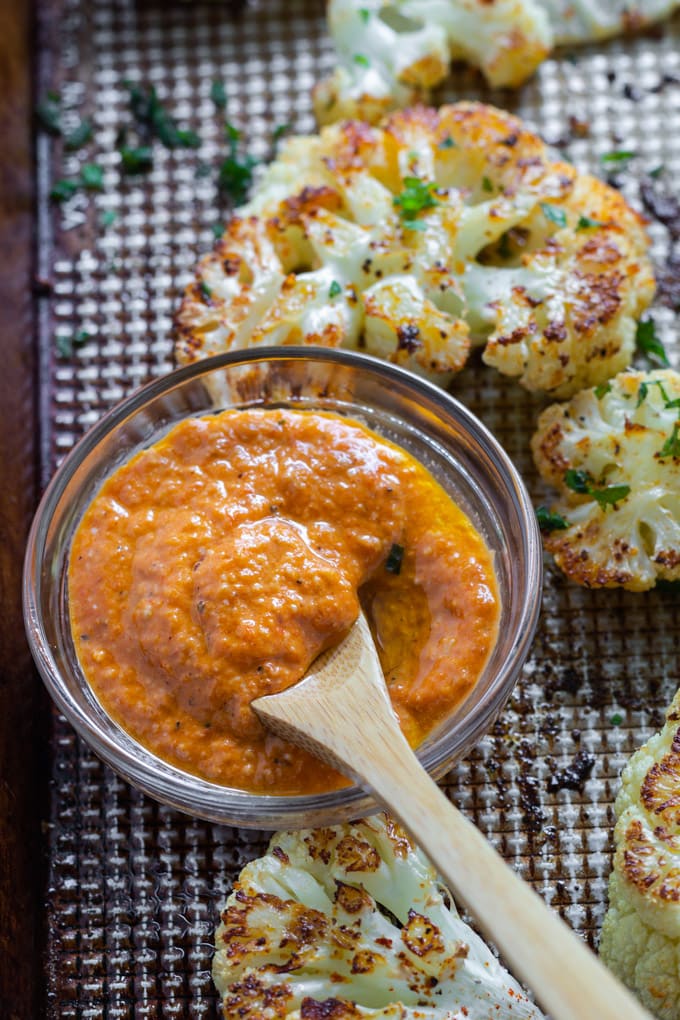 Blend everything in a blender for about a minute and watch that creamy light red color come through. I used jarred roasted bell peppers, if you roast the bell peppers yourself, this sauce might need a bit of extra liquid to it. So I would suggest adding water, since that's the jarred bell peppers have in it.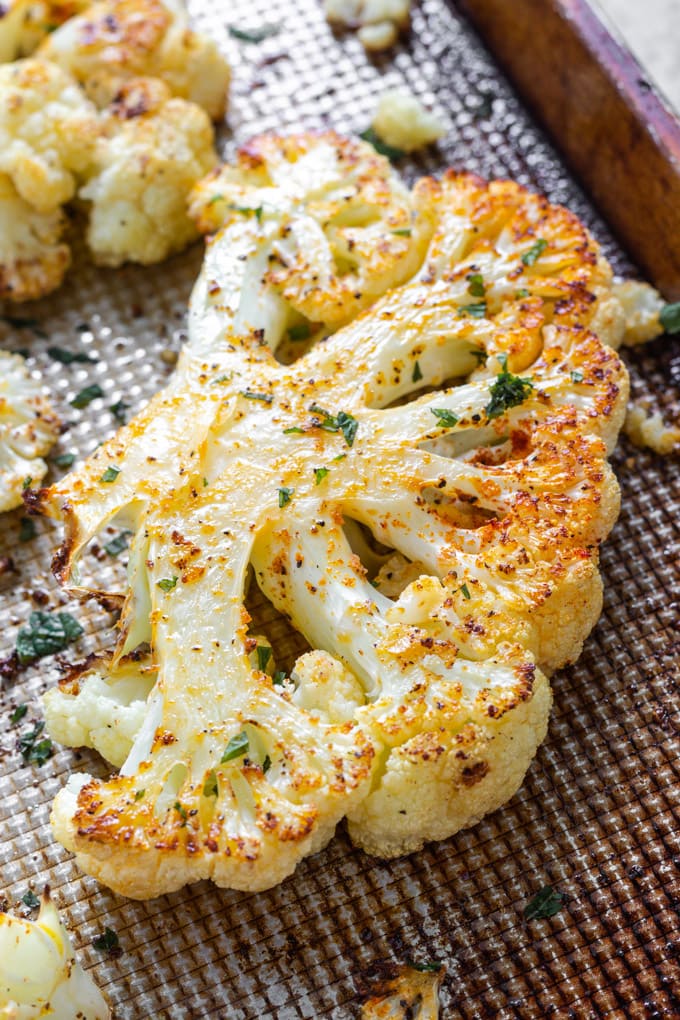 Alright now that we are through the red pepper sauce, now comes the cauliflower steaks. Mmmhm. Yep, that's right no red meat here. Spetical? Just try it. Sean didn't think he would like it and now he eats it for days.
How to Cut into 'Steaks'
The key to a good cauliflower steak is not cutting off too much of the stem. You want to make sure to remove any leaves and greenery but if you can, keep the stem intact so when you go to cut the cauliflower into strips they don't break and fall all over the place. I learned this the hard way.
Depending on the size of the cauliflower, it should give you 4-5 good inch pieces of 'steak.'
What to serve with cauliflower steaks?
I like to make sure each meal has some protein in it so I'm not hungry later. So I served this cauliflower steak recipe atop a bed of lentils. You can use black or brown lentils, both work here. Some grocery stores even carry pre-made lentils that you can just pop in the microwave.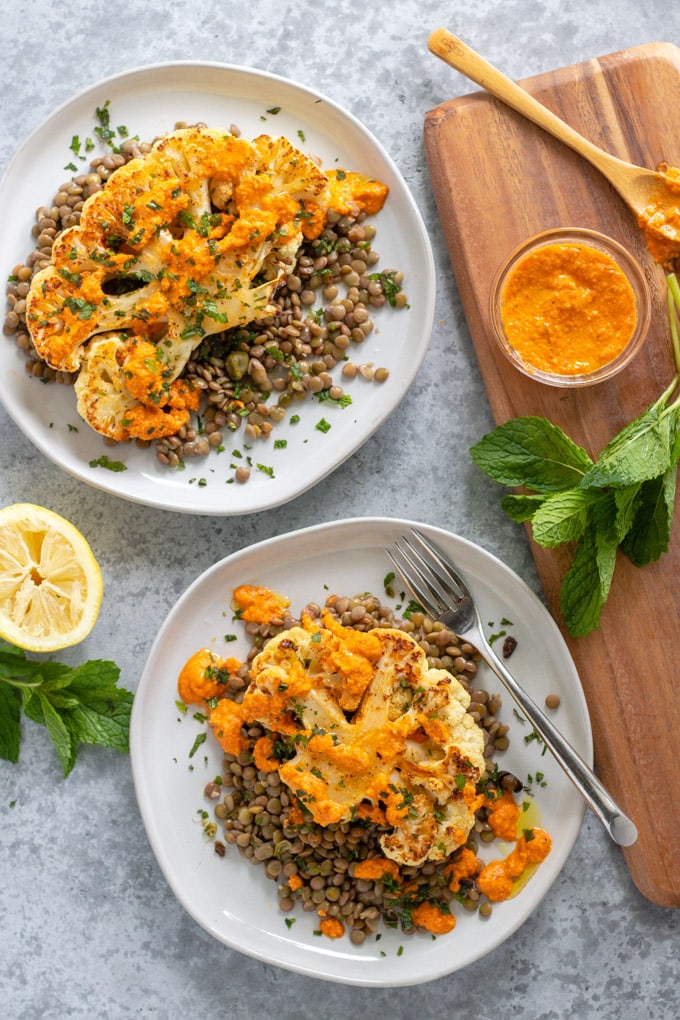 I loved the garnish of mint in this recipe. Plus, I always have mint around because it's about the only plant in my garden that I can't kill.
Optional to serve with some capers ! Bonus points if you fry them a little first. They lend such a crispy salty taste mhmm.
Ok, I better take Breslin to the park now, he has been so patient!
Print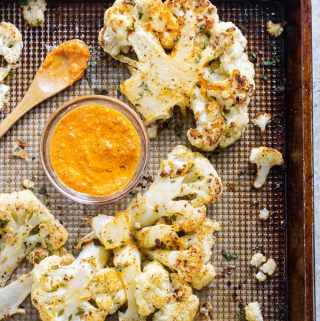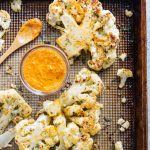 Cauliflower Steak with Lentils + Red Pepper Sauce
---
Author:

Maggie

Total Time:

30 minutes

Yield:

4-5
Description
Pour this red pepper sauce all over a cauliflower steak for a saucy tasty meatless dish! Served on a bed of lentils with capers and mint, you won't believe it's vegan and gluten free.
---
Cauliflower Steak: 
1 head of cauliflower, stem intact
2 tbsp extra virgin olive oil
½ tsp smoked paprika
1 tsp garlic powder
½ tsp black pepper
¼ tsp salt
½ lb of lentils (black or brown)
½ cup fresh mint, chopped
Garnish with capers
Red Pepper Sauce:
1, 16 oz jar of roasted red peppers (in water) 
½ cup almonds
2 tbsp extra virgin olive oil to drizzle on top
---
Instructions
Preheat oven to 425F. Remove any greenery from cauliflower and keep stem intact. Cut cauliflower into ½ inch pieces lengthwise. See picture above.
Carefully place cauliflower steaks on a sheet pan. Drizzle each side with olive oil and spices. Bake for 15 minutes, flip and cook for another 5 minutes. 
While the cauliflower is cooking, boil the lentils (according to package instructions) and blend the roasted red peppers and almonds in a blender until smooth. 
Serve with ½ cup of lentils, 1 cauliflower steak and all the sauce you want! Don't forget to garnish with the capers! 
Notes
You might have some lentils left over, throw it on top of some salads or use it in a stir fry or grain bowl.
Fried capers: Option to fry the capers here, it's a little extra work but worth it! Regular capers are also tasty.
Prep Time:

10

Cook Time:

20

Category:

Dinner, lunch

Method:

Bake

Cuisine:

American
Keywords: cauliflower steak, red pepper sauce
Recipe Card powered by