This Healthy Chicken Pot Pie with Biscuits is easy, delicious and is big enough to feed the whole family. Heart healthy, comforting and satisfying.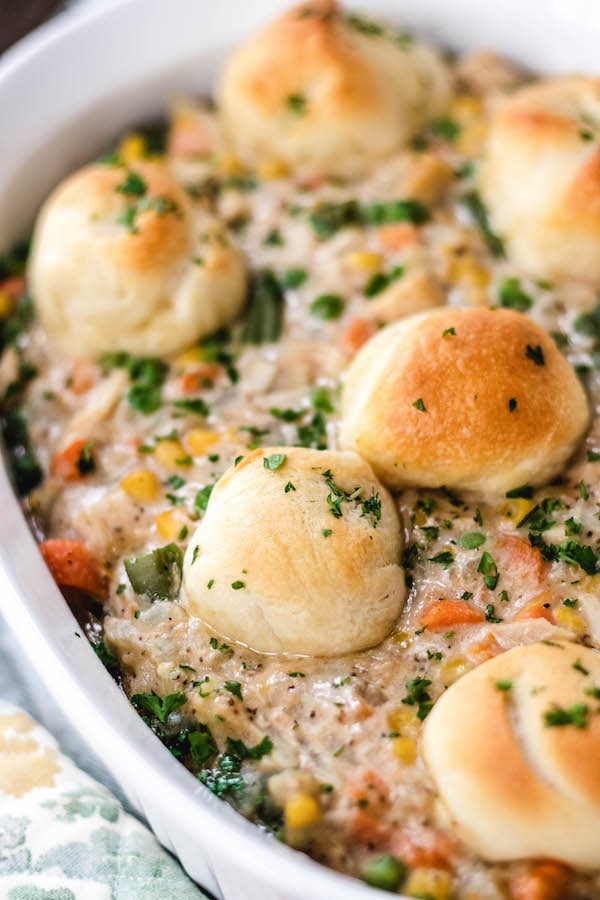 Happy Thanksgiving friends! I am making this cauliflower casserole and maybe some dates stuffed with goat cheese! I love this time of year! This year is especially special because its the first year of my food blog and I feel like Thanksgiving is the Super Bowl. I love seeing everyones creations and creative minds on instagram, its so inspiring!
Another great thing about this time of year is, its the season for comfort foods! I've made this recipe five times in the past month and half trying to get the recipe perfect and I am not sick of it yet. One of my favorite things about this recipe is how the biscuits sink into the slurry of the pot pie.
What makes it a healthy chicken pot pie?
Full of protein – packed with 29 grams of protein per serving. It is recommended you have 1-1.4g/kg body weight of protein a day (depending on your activity level). I typically aim for 20-30g each meal with 10-15g for a snack!

Low in saturated fat- made with minimal butter, whole wheat flour and chicken breast. There is <3 g of saturated fat per serving.
Low in sodium- processed or frozen chicken pot pie can have as high as 1300mg of sodium per pie! This healthy chicken pot pie with biscuits only has 382mg of sodium.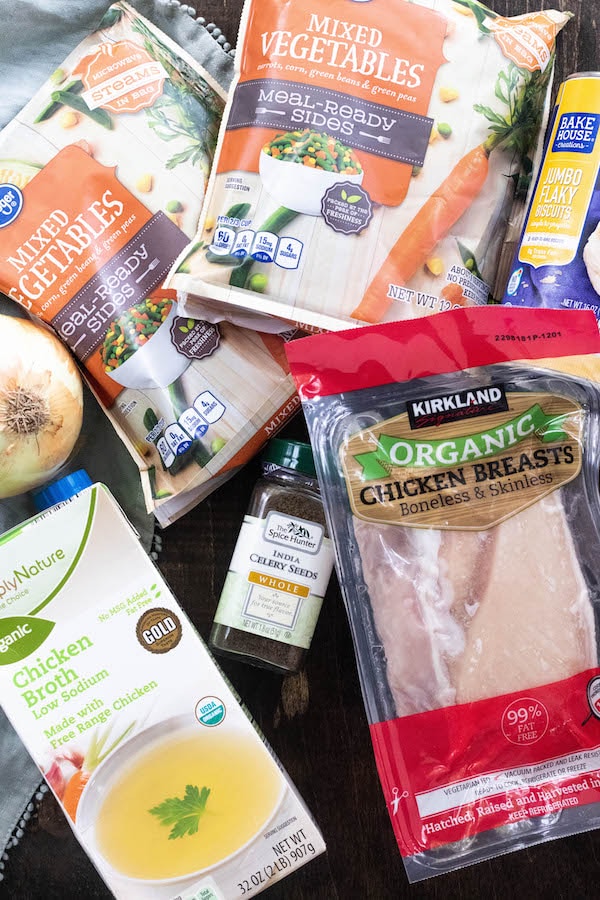 The ingredients are minimal and the recipe is so easy to make! I cut the biscuits in half and rolled them into balls. Alternatively, you could just place the whole biscuit on top on the chicken mixture, but I like the biscuit to chicken mixture ratio better when they are halved.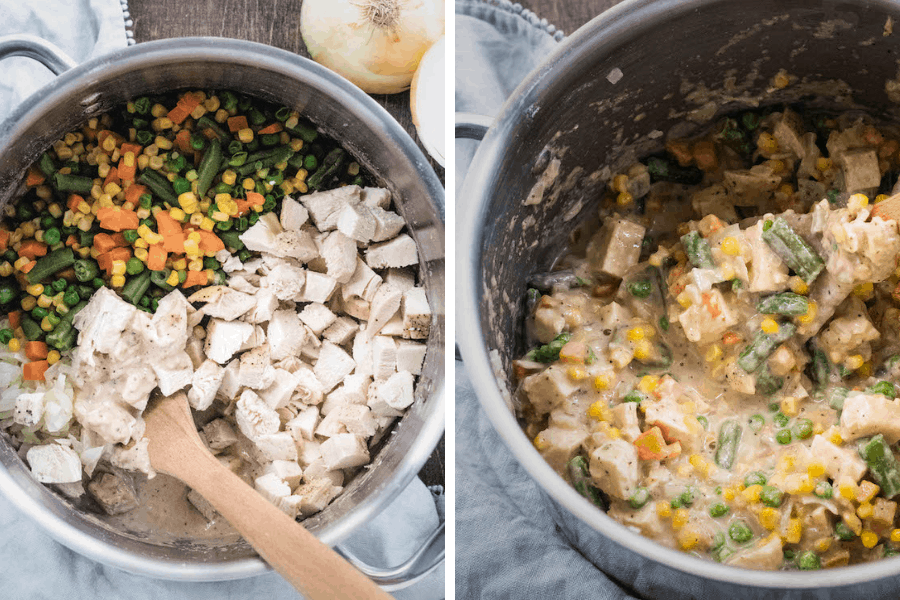 I used frozen bags of steamed vegetables for time purposes, but you could use fresh and I'm sure it would taste great too. The steamable bags are just so convenient! For the biscuits I used a plain flavor with flakey layers. I used the leftover biscuit dough to make little garlic knots.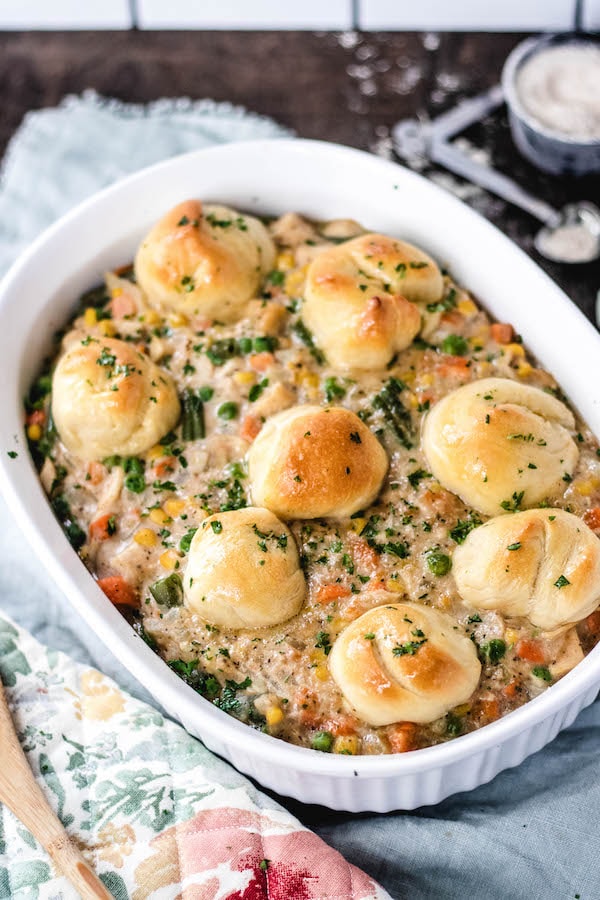 To ensure the biscuits are baked the full way through, you will need to cook them fully in the oven prior to baking them on top of the pot pie.
Print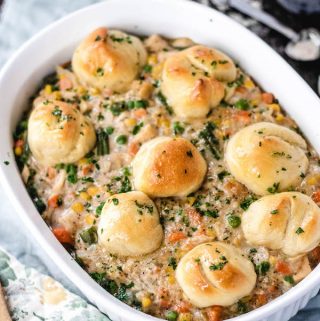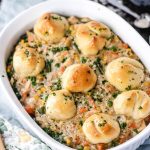 Healthy Chicken Pot Pie with Biscuits
---
Author:

Maggie

Total Time:

50 minutes

Yield:

6

servings

1

x
Description
This Healthy Chicken Pot Pie with Biscuits is easy, delicious and is big enough to feed the whole family. Heart healthy, comforting and satisfying.
---
4

chicken breasts,(normal size) cooked and cut into cubes (or shredded)

1

container of flaky biscuits

2

-

12

oz packages of frozen vegetable medley (carrots, corn, green beans and peas) or 3 cups frozen veggies

1 tablespoon

extra virgin olive oil or avocado oil

1

white onion, diced

3

cloves garlic, minced

2 tablespoons

butter

1 ¼ cups

 skim milk (+ more as needed if using whole wheat flour)

½

-

1

cups flour (I used whole wheat)

½ tsp

 celery seed

1 tsp

black pepper

½ tsp

salt

1 cup

low sodium chicken broth
Garnish: Parsley, additional salt, black pepper and garlic powder (optional)
---
Instructions
Preheat oven according to biscuit instructions and prepare baking sheet, set aside.
Using microwave, heat frozen vegetables in bag and follow microwave heating instructions. If not using steam-able frozen vegetables, steam vegetables in microwave in a small bowl.
In a stock pot sauté the onion and garlic in cooking oil over medium high heat, being careful not to burn. Once the onion is softened and translucent, transfer to small bowl and set aside.
Using the same stock pot, melt butter over medium heat. Begin to make a roux by whisking in ½ cup of flour then ½ cup of milk alternating between the two until the roux is thick like gravy and no visible clumps appear. You may need a little bit more milk or gravy to achieve desired consistency.
Add celery seed, black pepper and salt to roux, stir to combine using wooden spoon. Then add in chicken, onions and garlic,  steamed vegetables and chicken broth. Stir and turn heat down to low.
Unwrap biscuits from container and cut each biscuit in half, roll each half into a small ball and place on baking sheet. Bake for ~10-13 minutes and check to see if cooked through.
While biscuits are cooking, pour chicken pot pie mixture into a casserole dish. Once the biscuits are cooked, remove from oven and place on top of chicken pot pie. Turn oven temperature to 350F.
Cover casserole with foil and bake at 350F for 8-10 minutes.
Notes
Option to brush biscuits with cooking oil, garlic powder or butter prior to placing them back into the oven on top of the chicken pot pie. You don't have to cut your biscuits in half. I liked the chicken pot pie mixture to biscuit ratio better with the halved biscuit, personally.
If using Costco chicken, use 1 packet because their chicken breast tend to be bigger. 
I cooked my chicken in the instant pot, with ½ cup of water and 2 tbsp of oil. I did manual mode for 12 minutes and removed the chicken breasts and shredded them in my kitchen aid standing mixer. So quick!
Prep Time:

20 minutes

Cook Time:

30 minutes

Category:

Entree

Method:

Baking, saute

Cuisine:

American
Keywords: Healthy Chicken Pot Pie with Biscuits
Recipe Card powered by
If you love chicken, check out my other chicken recipes