If you were ever thinking about taking a trip from Seattle to Vancouver, you should absolutely go for it. The Pacific Northwest is unlike anywhere else in the United States. The lakes, the hills, the trees, THE FOOD. Ugh, take me back when you go.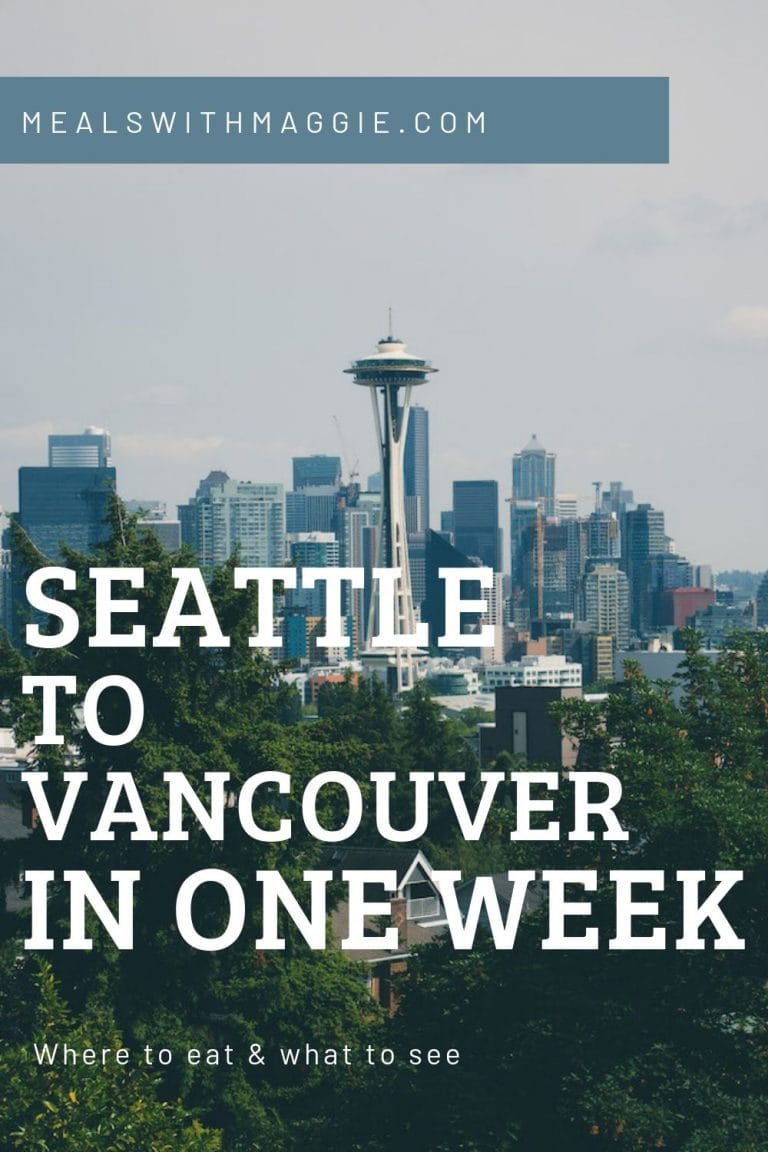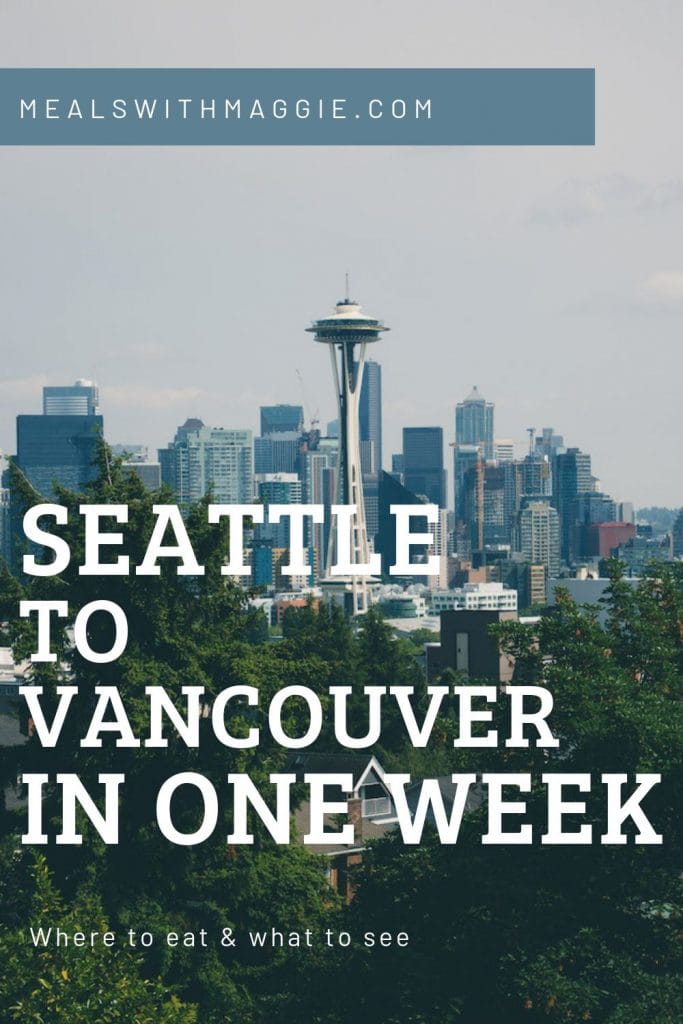 Seattle
My husband, Sean, and I stayed with one of our friends in the Roosevelt neighborhood. Near Roosevelt, there is a beautiful lake called, Green Lake that is surrounded by a park full of outdoor activities for all ages. The sidewalk around the lake is great for people-watching and running. One loop around is about 3 miles. 
Where to Eat in Seattle
If you are looking for food in the Roosevelt neighborhood, there are a lot of options. Rain City Burgers, Dick's (similar to an A&W), and Portage Bay Café were a few of the places we checked out. We had Porridge Bay Cafe for brunch one morning and they have a berry bar that allowed you to put as many toppings on your pancakes/French toast/oatmeal as you liked! 
Pike Place Market
A foodie's paradise! Literally, it's amazing. Almost any kind of food imaginable is within a few blocks of each other. I had to venture into the Truffle Queen's shop to get some essentials. Also, we hit up just about every cookie shop to see what they had. Cinnamon Girl Bakery took home the golden crown with one of the best cookies I've ever had.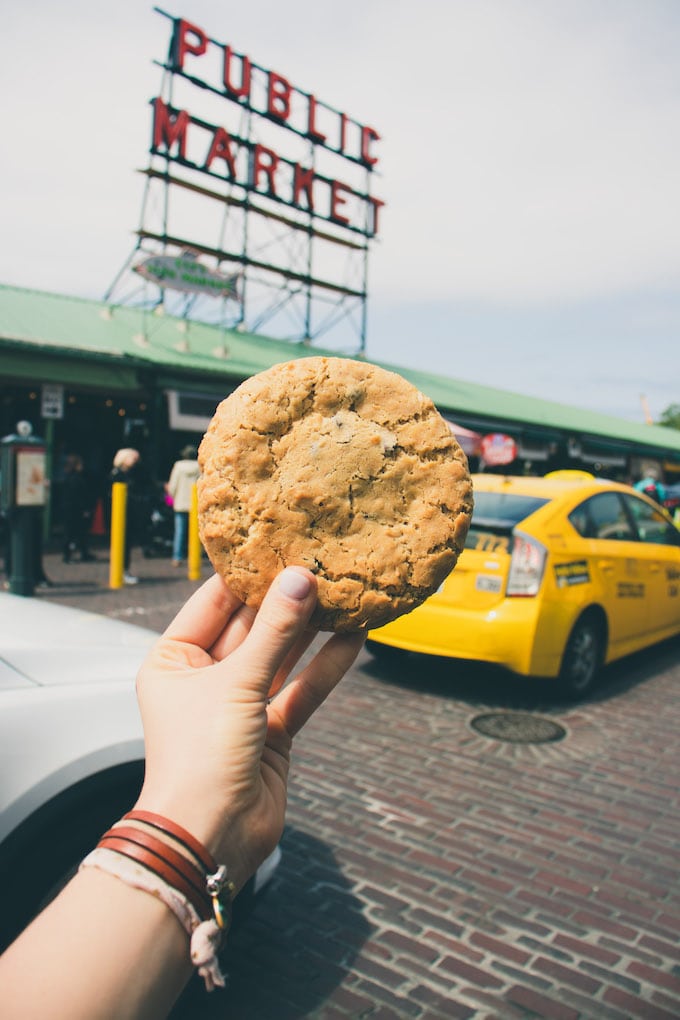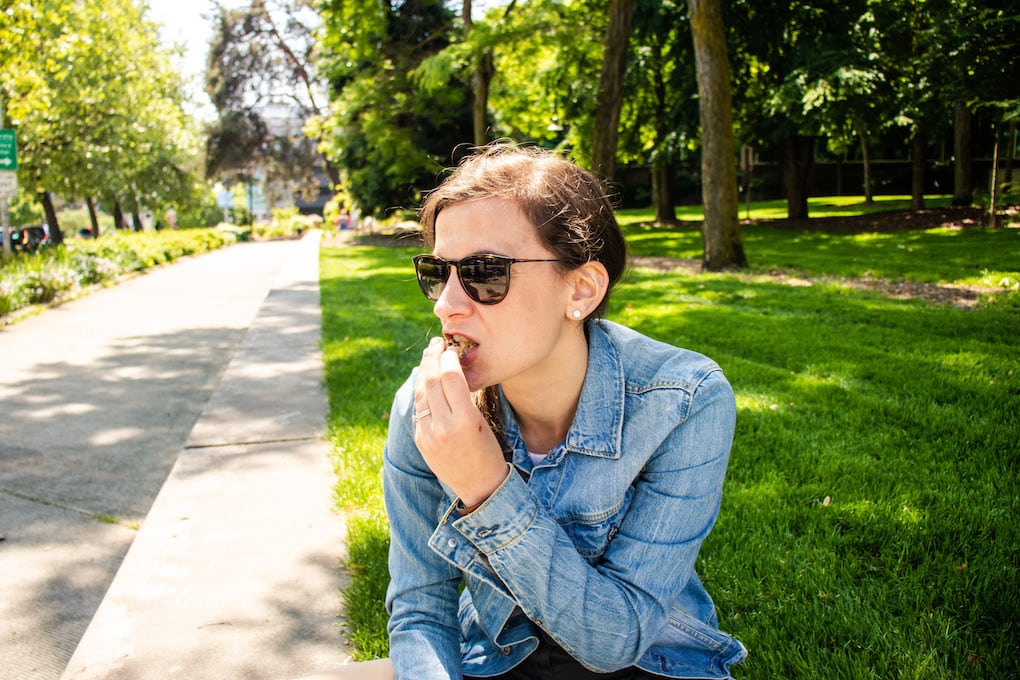 After Pike Place, we walked around the city a bit and headed towards the Space Needle-- I know, I know, such tourists. After the Space Needle, we headed up to Kerry Park for a stunning overlook of the city skyline. FYI don't try getting there by bike or foot-- there a big hill.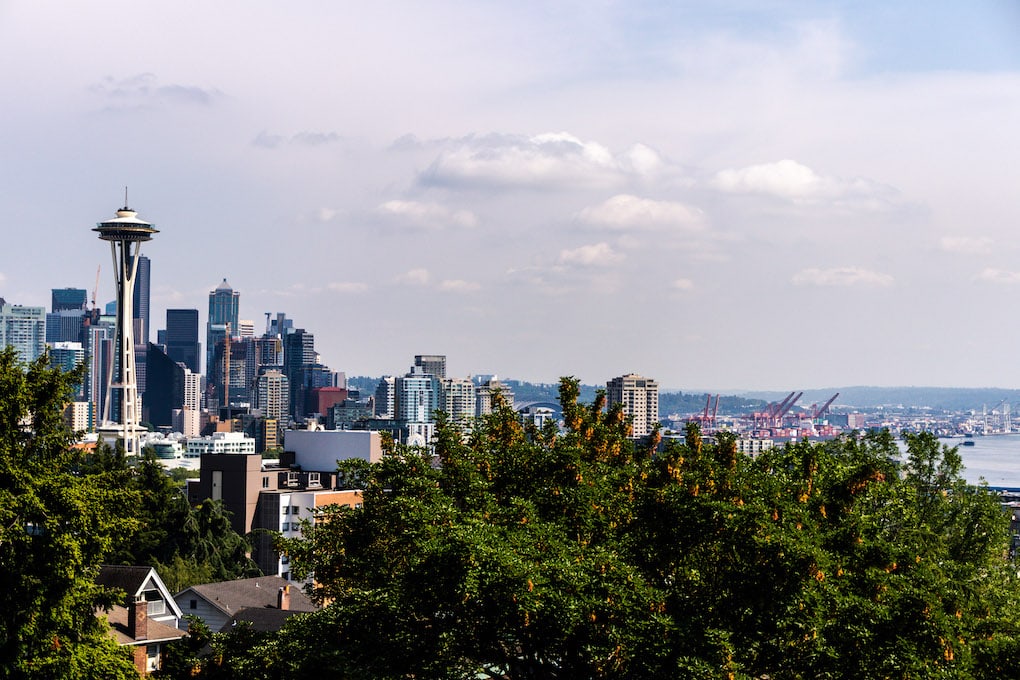 I'm a bit disappointed that we only had a few nights to try all the best seafood in the city. For proximity reasons, we went to Duke's Seafood. It's located right in Lake Union, so we sat outside for the best view. I forgot to take pictures of it because I wolfed it down! They have four different variations of seafood chowder, but my favorite was the one with sweet potatoes in it! Also if you go, get the crab cakes!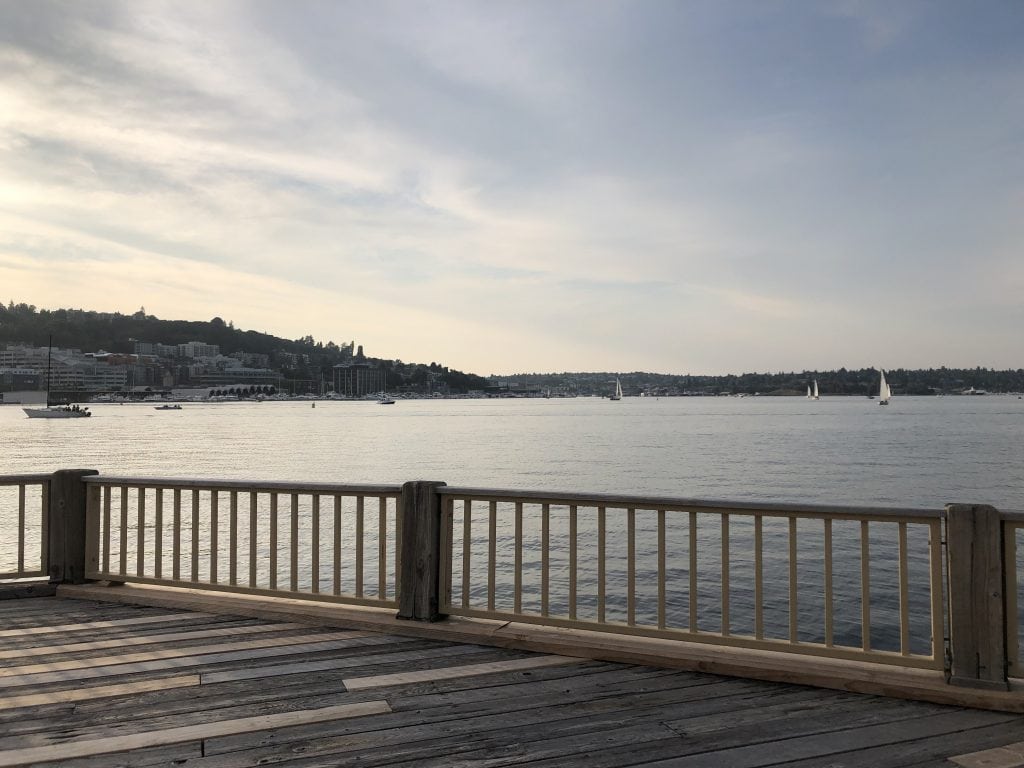 Ice Cream Showdown
The ice cream debate in Seattle was a bit heated. They have two competing ice cream vendors; Molly Moon and Salt & Straw. For a girl who loves funky unique ice cream flavors, I'd have to say that Salt & Straw takes the cake (or the cone). I had the Mushroom Muddie Buddie -- the description sounds like "hmm", but tastes like "mmm!".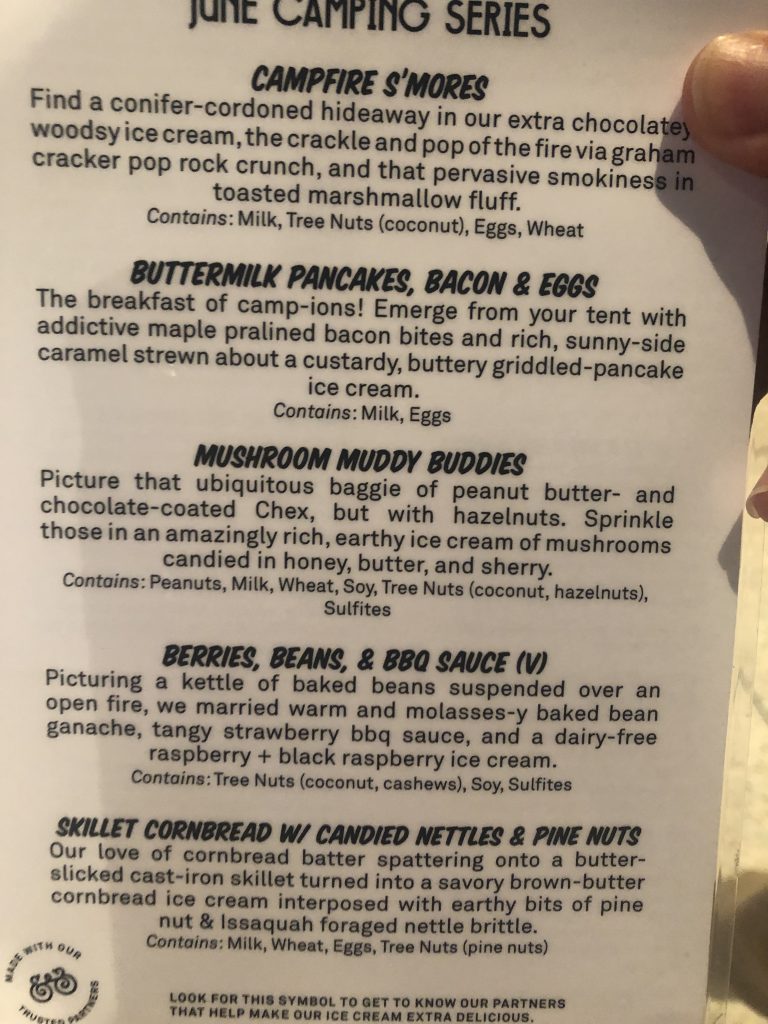 "The best pasta"
So another food adventure happened-- Il Corvo. Our friend told us it would be, "the best pasta you're ever going to have". The menu rotates, but they normally only have three pasta dishes available. It's one of those places you stand in line for about 40-50 minutes and once they sell out, they sell out. It won the James Beard culinary award back in 2018 and it surely deserved the honor.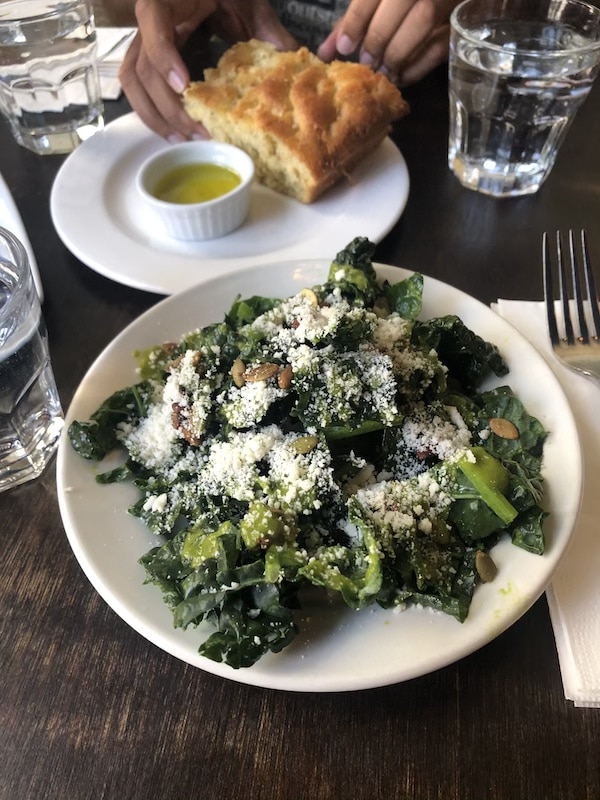 I know I got a kale salad for an appetizer at a pasta place! But it sounded and tasted SO GOOD. My body NEEDED some greens. Trust me, I still ate all my pasta.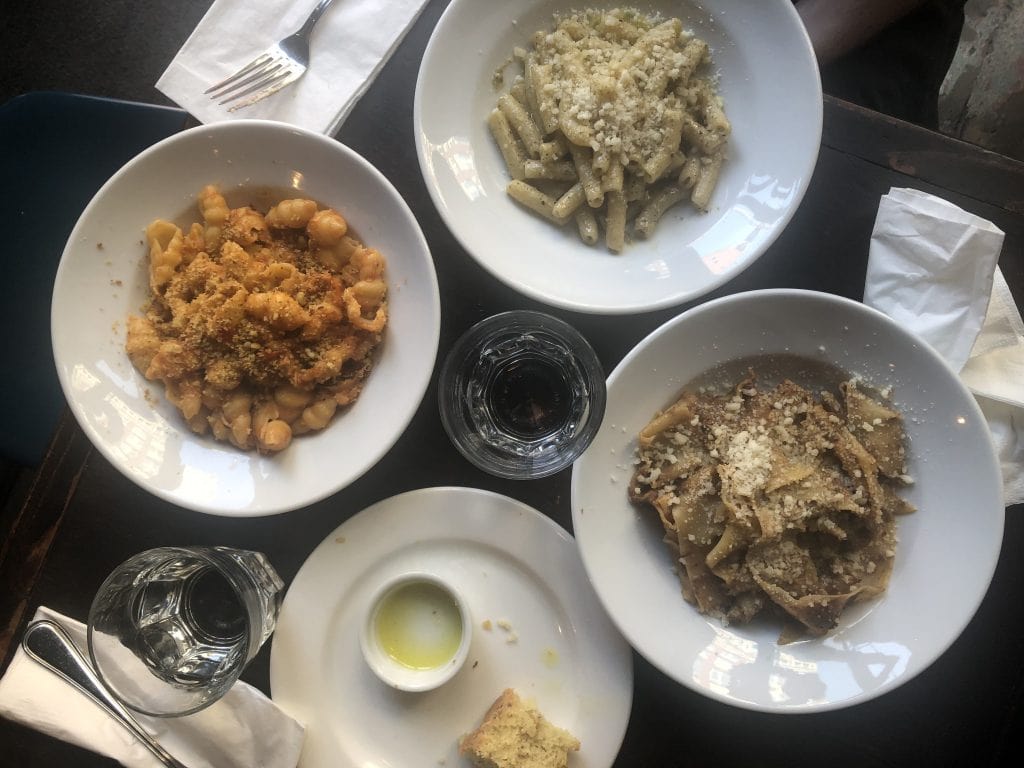 What to do in Seattle
Hike: We went to Rattlesnake's Ledge for a hike after our pasta feast. The hike was moderately challenging and the views were incredible. It's a bit of a drive from Seattle, but totally worth it.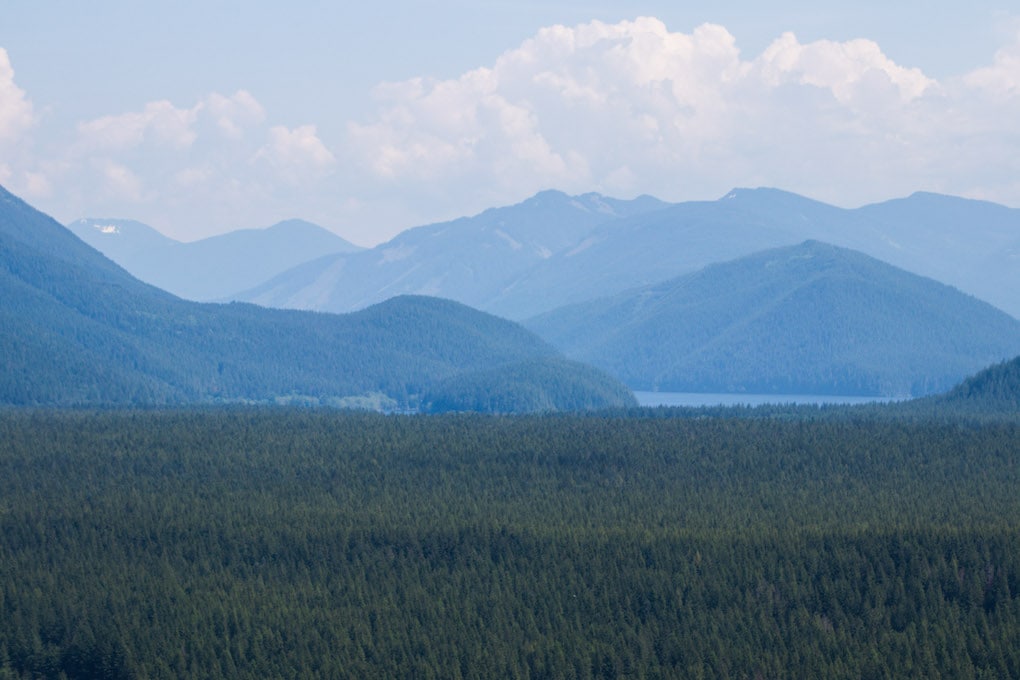 Amazon Go: If you don't make it to the store it's not a huge deal, but it was something fun and different to see. It was one of Amazon's first stores without cashiers. Yep, no one to scan that candy bar at checkout. YOU don't even scan that candy bar at checkout, you just walk out with it. Mind. Blown.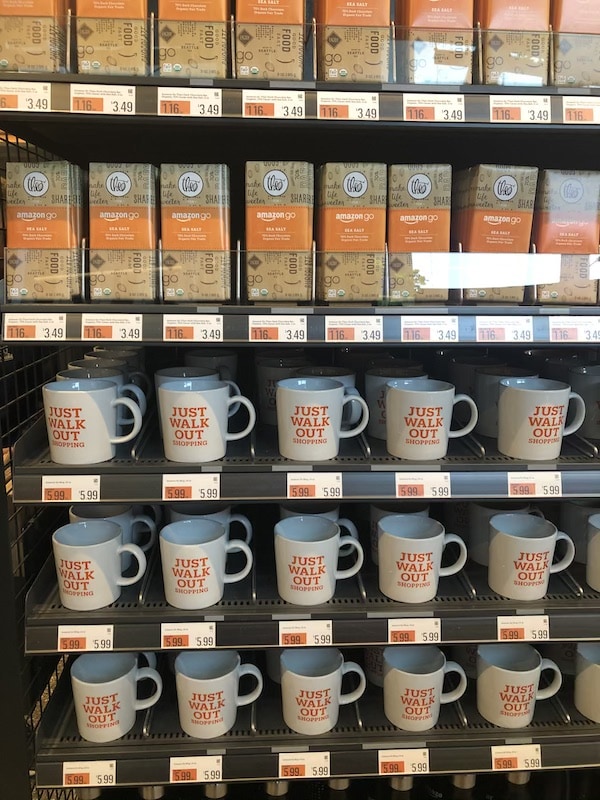 Traveling from Seattle to Vancouver
How far is it from Seattle to Vancouver?
About 3 hours. You spend some time in customs waiting in line, but when I tell you it was worth it, it was. A backdrop of mountains and seaplane everywhere you looked.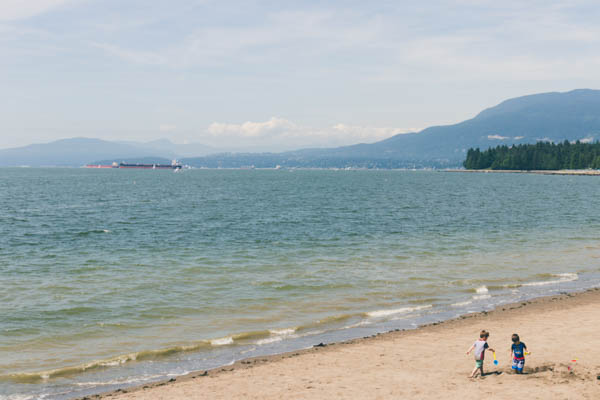 There is a train that runs from Seattle to Vancouver but we looked into the price and time it took and it wasn't worth it to us because we had an option for a car.
Capilano Suspension Bridge Park
When we first got there, we went to Capilano Suspension Bridge Park. It's just north of the city and we had been told it was a "must see." Admission was about $50 per person. There are student and senior discounts available.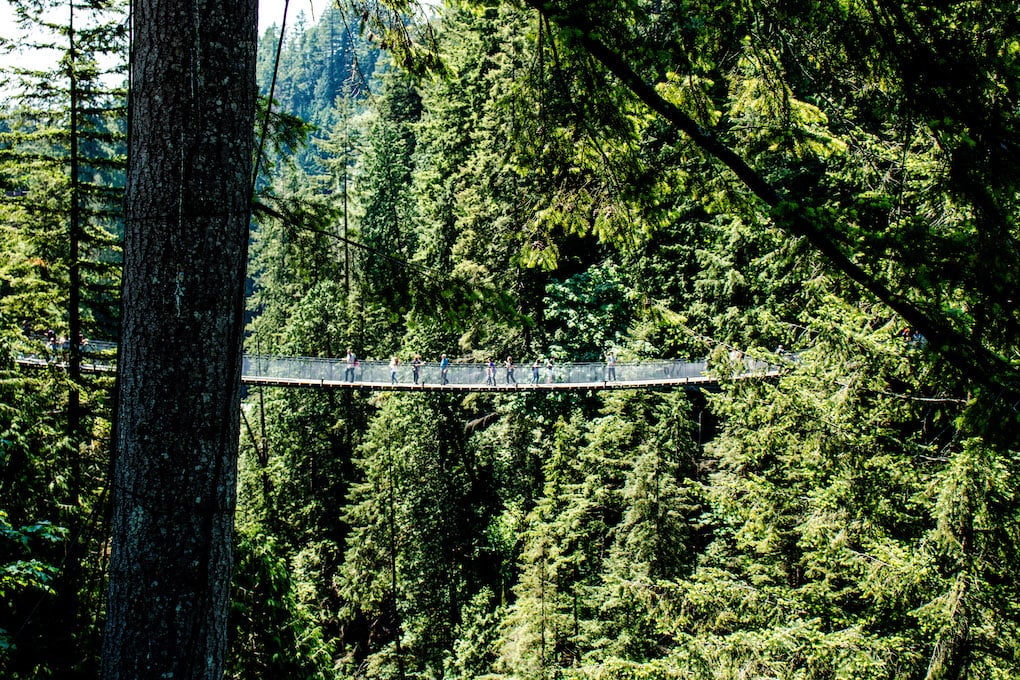 There were informational signs throughout the whole park and it is very kid friendly. The suspension bridge was pretty intimidating. Some older people in front of us just turned around after they stepped onto it. Something to keep in mind in case you are scared of heights.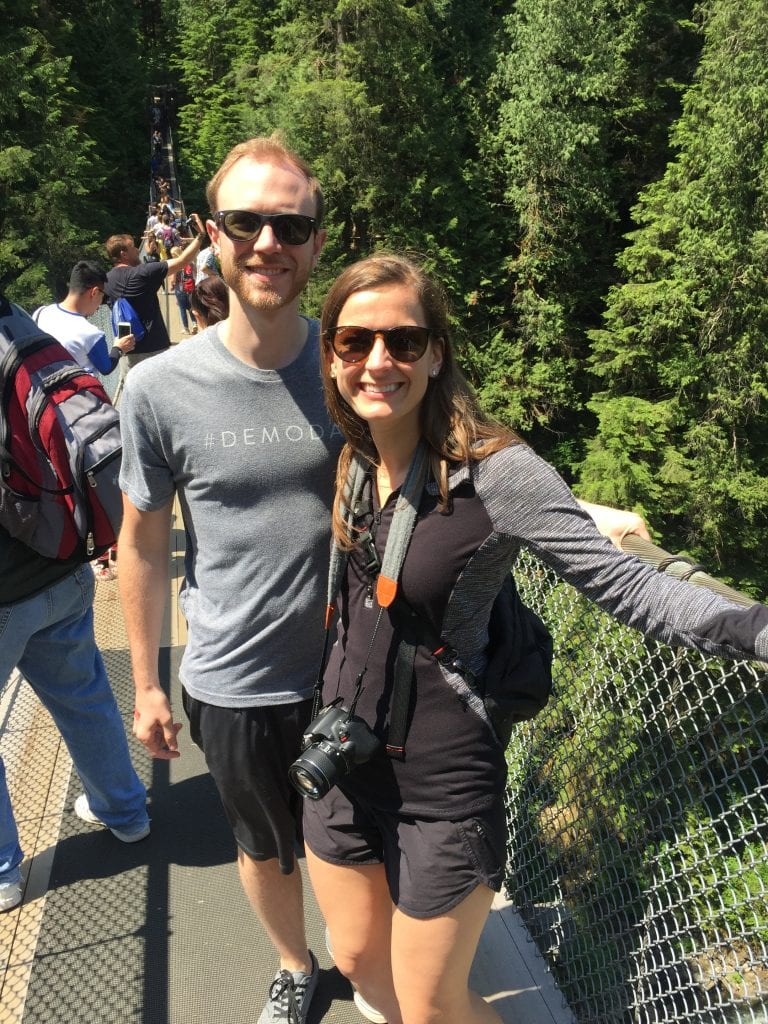 If we had more time we would have made the trip up to Whistler, which is about another hour and half north. Unfortunately, we could only fit so much in. Also, despite it being just north of the city, the traffic gets really backed up around rush hour. So if you are going to visit and plan to go into the city after you might want to plan to leave before rush hour starts.  
Our Air bnb
We stayed at an air bnb just outside of Gastown in downtown Vancouver. Gastown seemed to be the place for all the restaurants and twenty somethings hung out. Everyone was taking pictures of the Gastown Steam Clock. We didn't see the appeal but most tourist think it's pretty cool.
Granville Island
This "island" (not really an island but everyone calls it that) is located just outside Vancouver and is a short car ride from Gastown. We rented kayaks from ecomarine and kayaked around the harbor and up the shoreline to Stanley Park. A little seal even swam up next to us! I knew I should've taken my camera.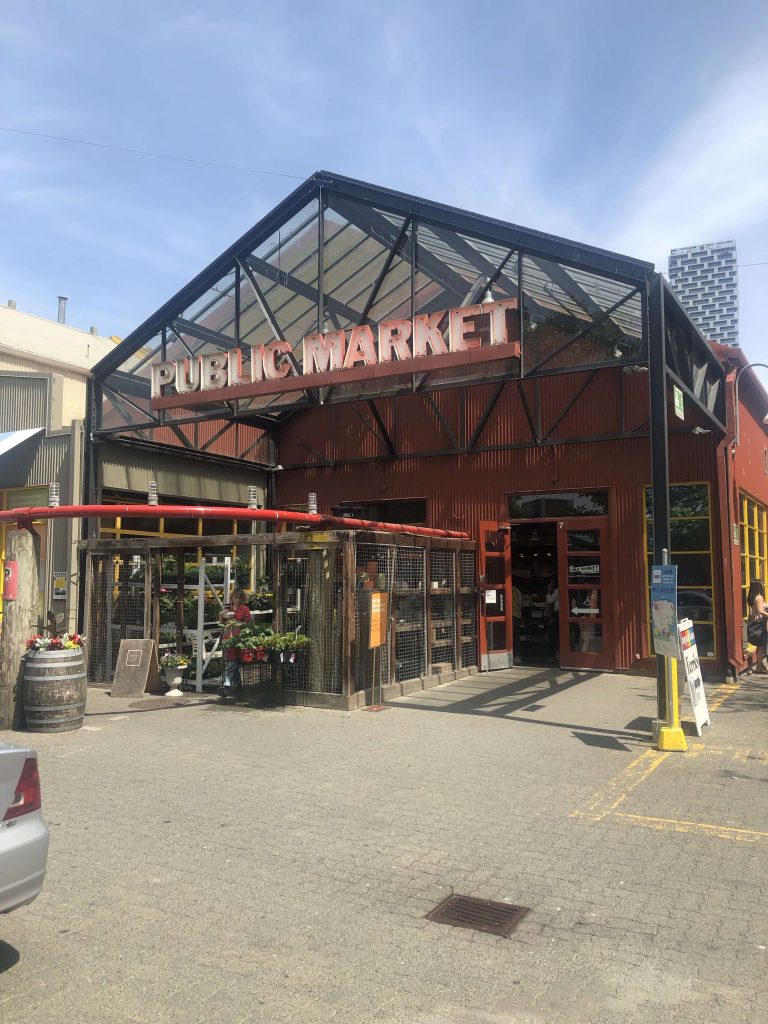 There is a public market on Granville that is a foodie's dream. It was hard to decide on where to eat but I saw a spinach pie and couldn't resist myself.
The weather was pretty perfect when we were there. We walked around Stanley Park. They had bikes for rent, but we decided to walk so that we could enjoy the scenery. Marble Slab Creamery was close to one of the beaches so we got ice cream for the 8th time on the trip.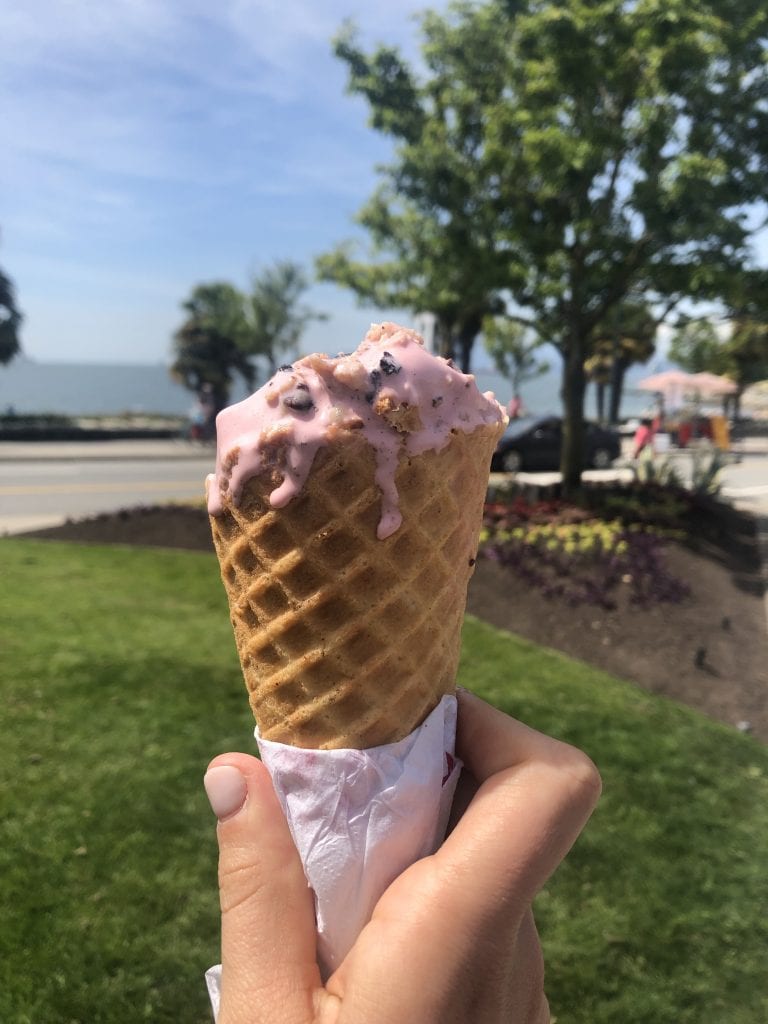 Food in Vancouver
Similar to Granville Public Market, there were so many options in Vancouver.  We had everything from dumplings to seafood.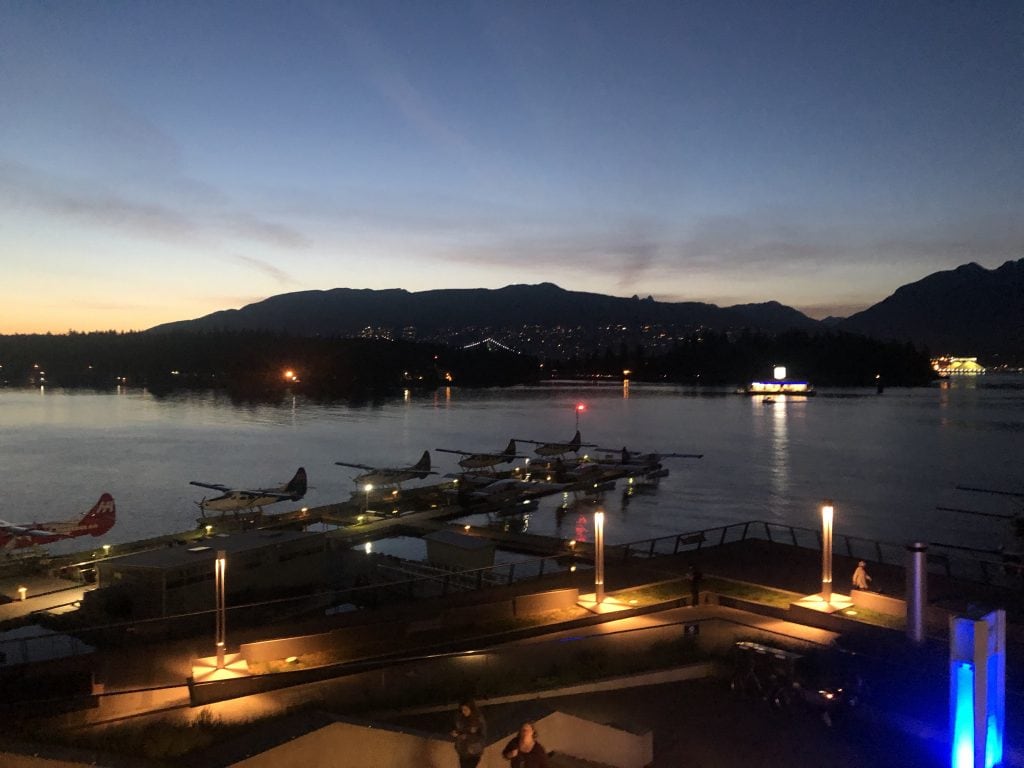 The last night we were in Vancouver, we spent time in Coal Harbour and visited The Cactus Club. With a capacity of 600 people, not surprising it was named the busiest North American restaurant last year.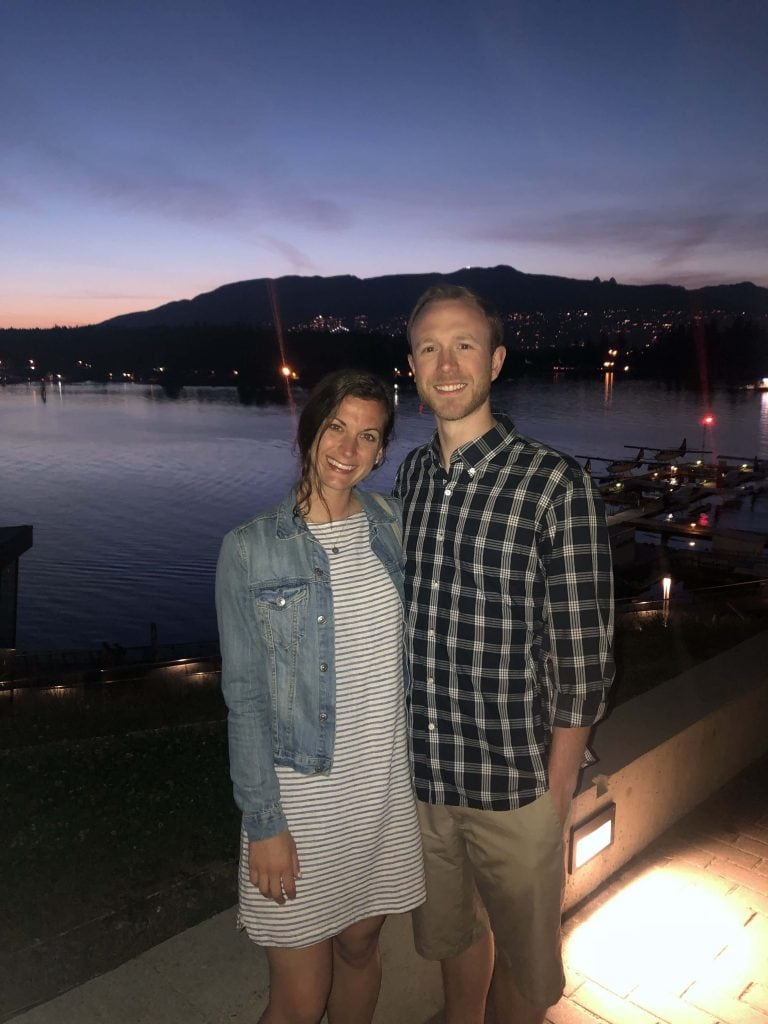 There are a lot of ways to explore the Seattle to Vancouver area, we made this trip our own. If any of this information helps you plan your trip or have any recommendation for a future trip, let me know in the comments below!
If you loved this Seattle to Vancouver post check out my other Meals with Maggie travel adventures!