First off, I just want to say thank you to everyone who has checked on Sean and I during all of this craziness. We appreciate all the texts and phone calls just to see how things are going. I feel so loved and know that it means a lot to both Sean and myself.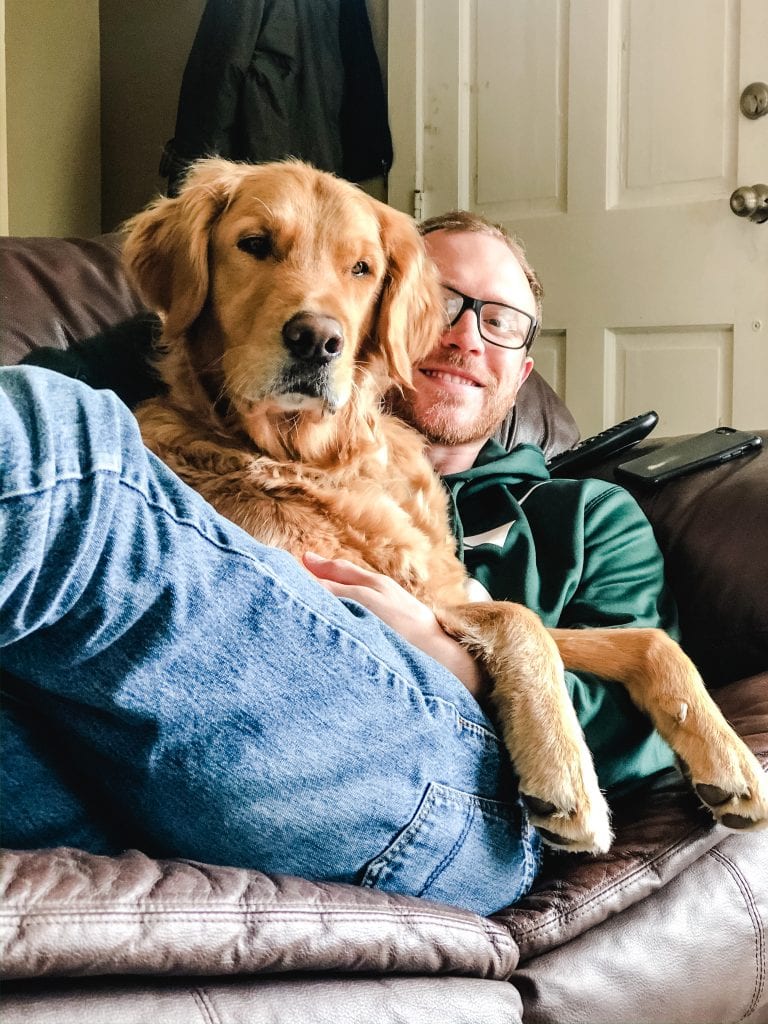 For those of you who are newer readers, Sean works in the ER and I'm about 26 weeks pregnant with our first baby! Being pregnant does make me immunocompromised, but there are so many more people who have it worse off than us. It gives me reassurance knowing that there hasn't been any cases of the virus transferring to the fetus, so I'm just going to keep the baby in my belly until this all blows over. Frankly, I would have more anxiety and stress if my baby was born and I had to protect him/her, like so many of you out there are doing <3.
Staying Positive
I am choosing to stay positive during this time and only watching light hearted TV shows/movies and reading 'feel good' books (currently reading Eleanor Oliphant is Completely Fine). Also one of our friends sent us this link to an NBC bracket for the funnest Office episodes. We are planning to do it!
In other news, I am a huge musical fan and Lin Manual Miranda released a secret song from Hamilton that didn't make the cut, here is the link !
On the Blog
The blog has been business as usual for me, since I am used to working from home. I love that people are using this time to get back in the kitchen. I've seen so many people baking and cooking on Instagram lately. For me, I've been using my Kitchen Aid standing mixer more this week than I have in my entire life lol! It's probably because baking makes me happy or the fact that I am pregnant lol. Either way, I don't hate it! Sean definitely loves it.
Funfetti Cupcakes: These funfetti cupcakes have a slightly healthier twist using greek yogurt, coconut sugar and coconut oil! They just make me happy to look at and to make and I hope they do the same for you!
Chicken Shawarma Bowls: Soooo many of you are already loving on this recipe! It makes the house smell SO GOOD from all the warm Middle Eastern flavors for the chicken.
Healthy Caesar salad: I don't know what it's been about pregnancy, but I had never really eaten a Caesar salad before pregnancy and now I can't get enough. The Caesar dressing is homemade and it's fun to try something new!
Carrot Cake Bread Pudding: This recipe is older, but got a facelift! It's full of protein, fiber and all those yummy flavors of carrot cake.
Raspberry Lemon Cookies: What screams Spring more than raspberry and lemon flavors? Bright, fresh and fun.
Healthier Mac and Cheese: I actually posted this recipe back in February, but it's still showing up on our dinner table 😂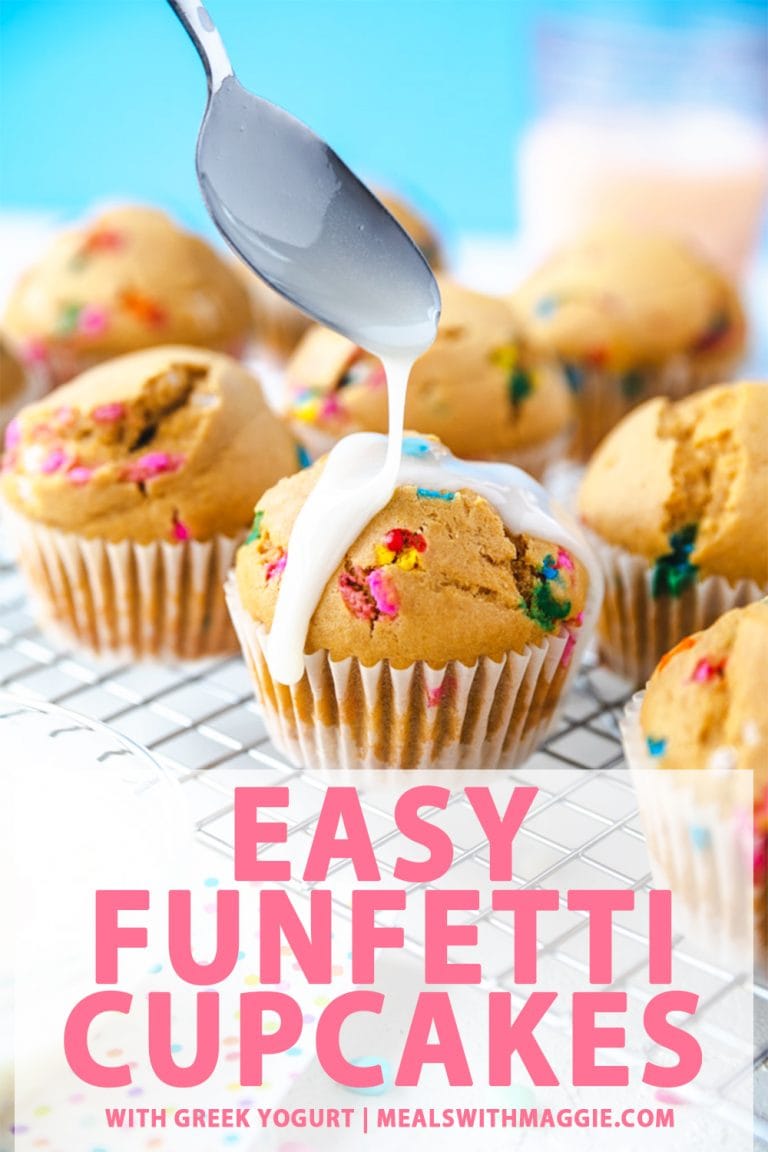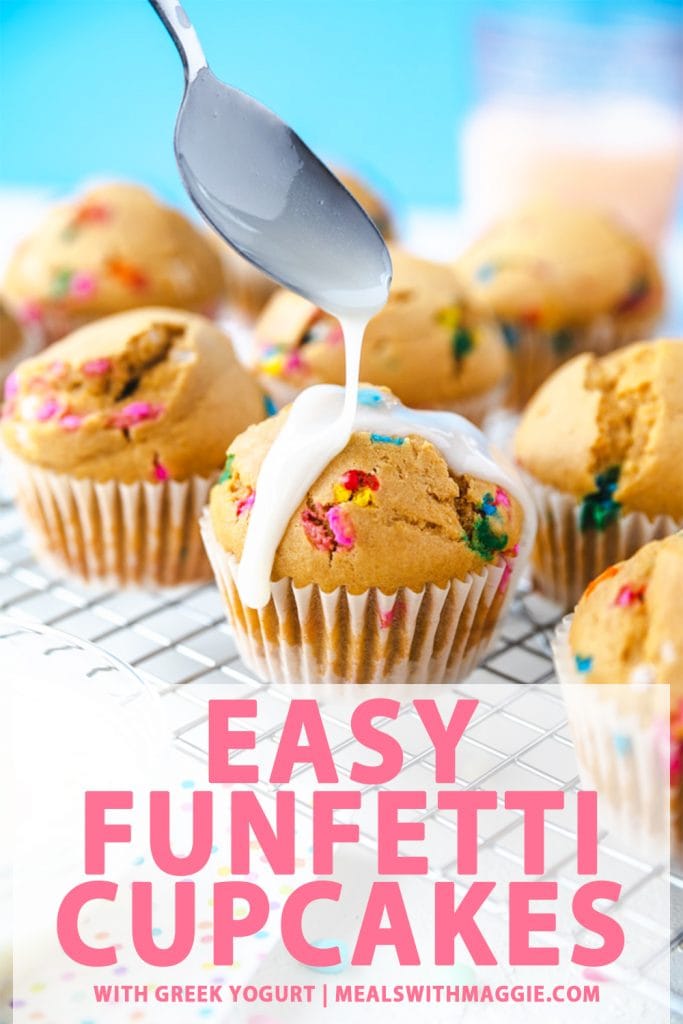 Plus, don't forget to check out these 12 recipes you need to check out for Spring!
Pregnancy Update + Exercise + Clothes
I posted how my first trimester went on the blog a few months back and this April I plan to talk about my second trimester now that I am entering my third! Crazy how time is flying by.
Since quarantine and the gyms are shut down, I have been trying to do an online workout 3-4 times a week in conjunction with running outside. However, I think it's time for me to hang up the running shoes for a few months. Moms or soon-to-be mommas, you know how I am feeling. The pressure of things shifting down there has made running not enjoyable anymore. I've been reading some articles online and they say it's best not to push it. So I'm going to use this quarantine time to stick to my indoor workouts with bands and weights.
Shout out to LBS on IG for giving us great content for free!
The gym that I teach at, FlexCity Fitness, also has virtual workouts.
Peloton also has classes on their app free right now for 90 days! They have tons of cycling, running, weight training and yoga classes on there! I can't wait to try some out.
This outfit has pretty much been my norm during the whole pregnancy. I haven't put on jeans since October and it's felt so good. I have the Lulu Lemon Align leggings in black, but they pill so easy for the price! I was upset. Check out aerie's version for a cheaper option (they are $23 right now!) . Top is from target, they had so many colors! So comfy.
The stores are making this quarantine a little better by offering sales. I've fallen into the trap of some of them like Wayfair and Seraphine. Seraphine is a store for maternity clothes (mostly dresses) and I was eyeing a couple things for a months. They recently had 20% off, so here is what I bought!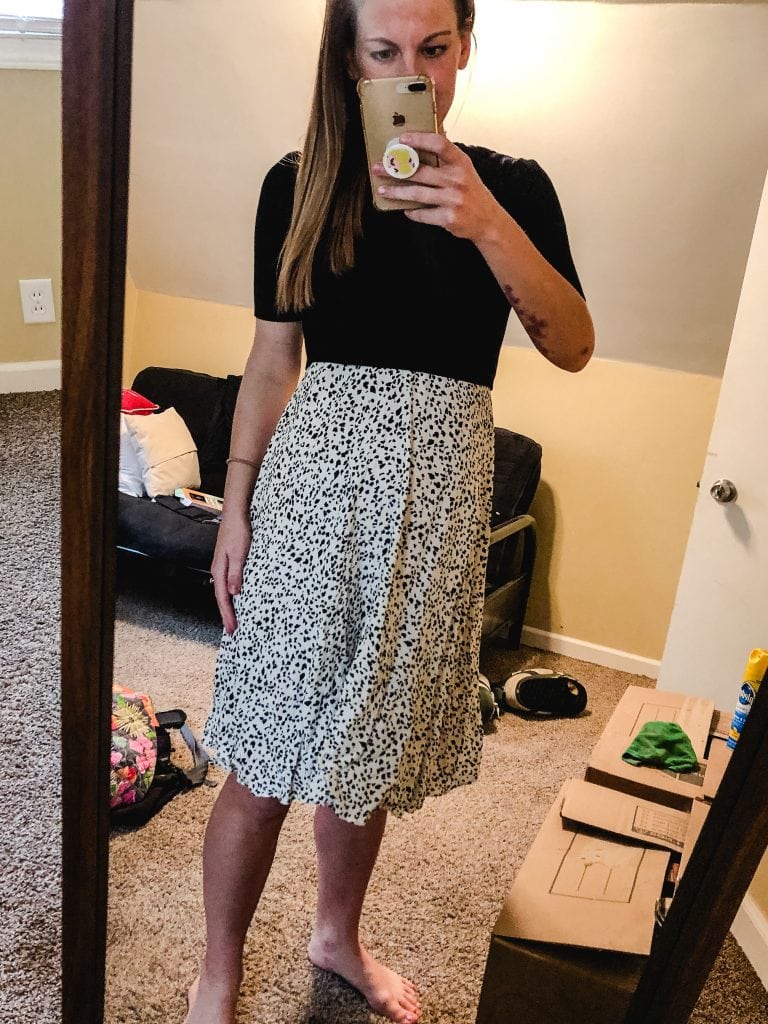 I got this black and white maternity top nursing dress. It fit nicely and fell just above the knee.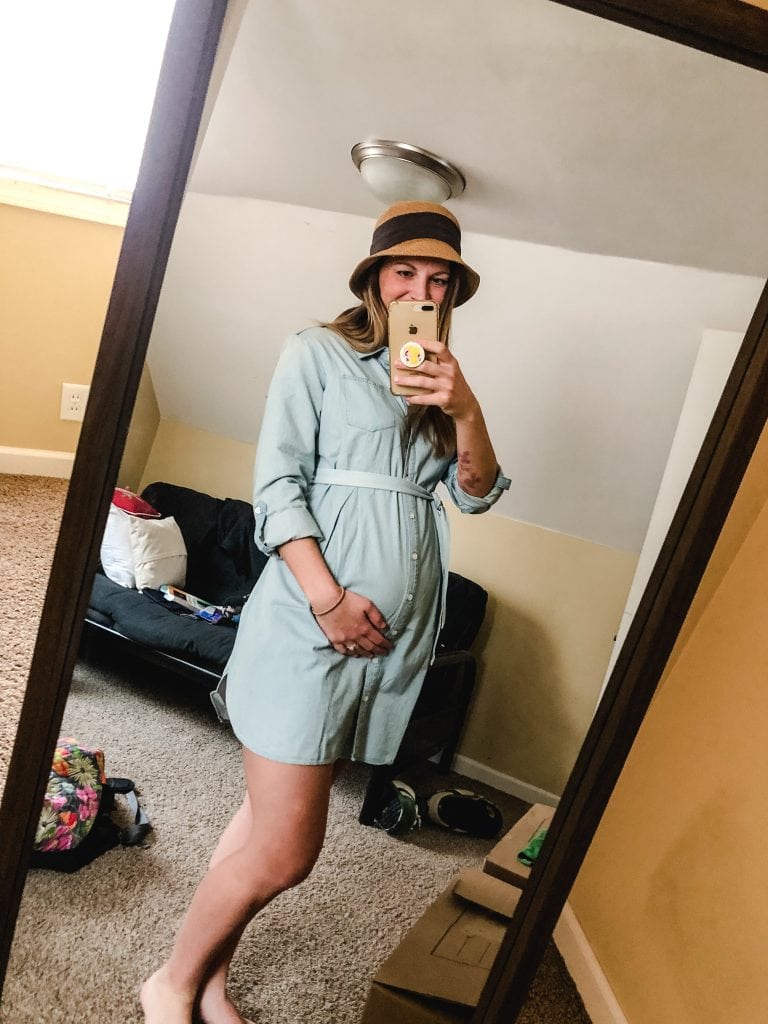 The other one I bought is this light chambray belted maternity shirt dress. It is probably going to be more of a postpartum dress than a maternity dress because of its length. No worries though, I don't plan on wearing pants or shorts all summer, dresses all day 🙂
Seraphine is having a 'mid season' sale right now with up to 50% off select items. It's worth checking out if you are expecting!
Moving Update
With the executive order in place for Michigan to shelter in place, moving is considered a 'critical trade' and is staying open. We are planned to move everything next week! I am very ready to start feeling more settled and get everything out of boxes that they've been in for the past year.
For now, the kitchen renovation has been placed on a bit of a hold until businesses open back up. I've taken this as a blessing though, so we won't be without a kitchen for a month, which means Meals with Maggie can keep creating/giving you recipes each week!
A final note from Breslin's Birthday!
This month marked Breslin's 5th birthday!!! Can you believe it?! They grow up so fast. He spent the day with his brother and sister at the dog park and then went up to see another dog friend in Rockford to play. He had a great day and even got not one, but TWO new toys. Spoiled, spoiled dog.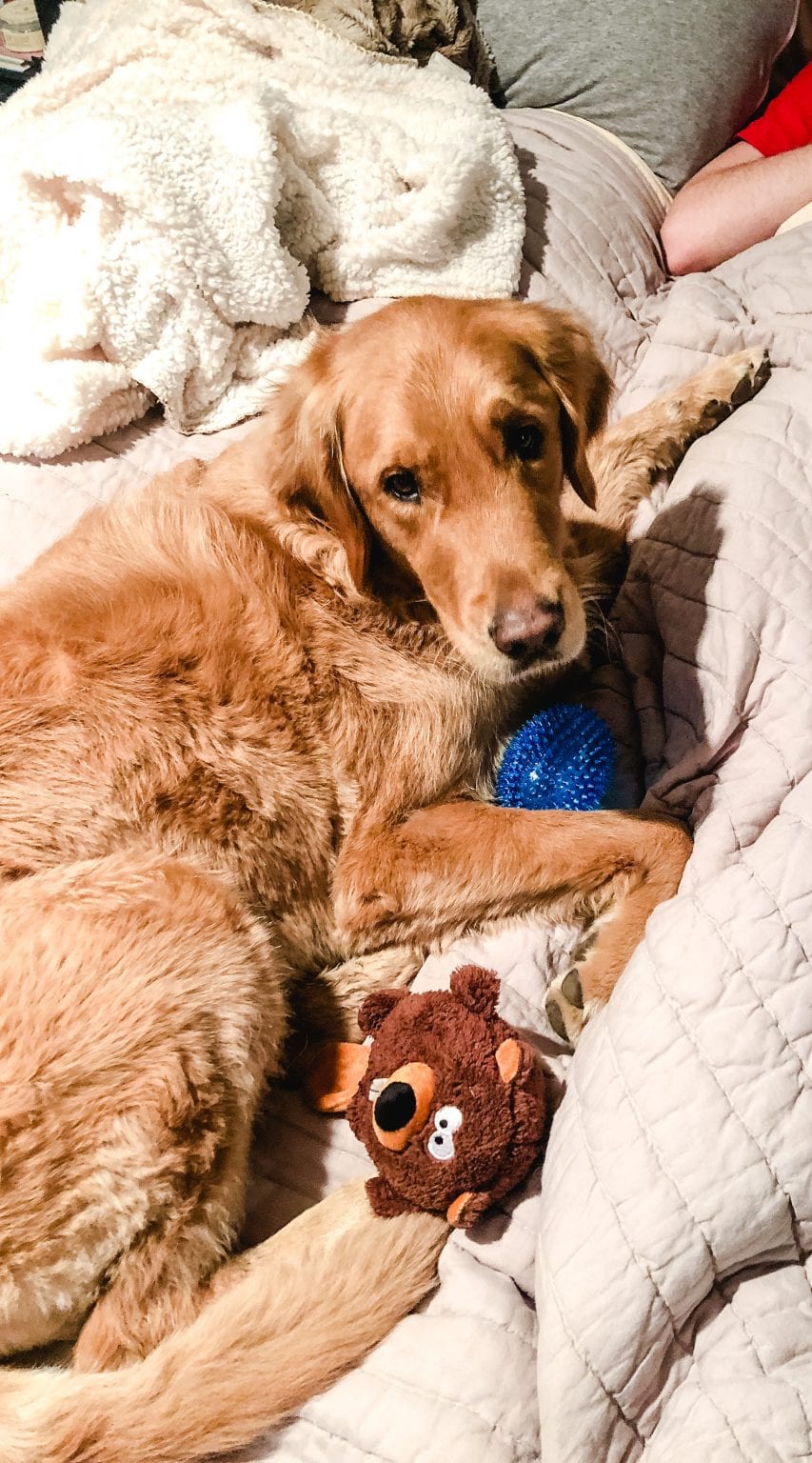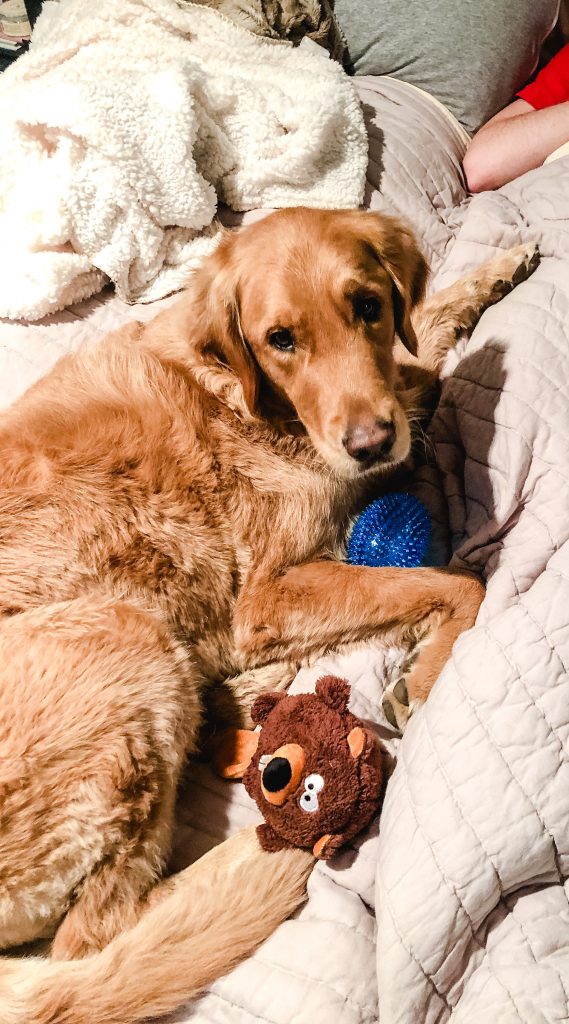 Wishing all of you love, good health and happiness this month. Stay positive and think about August when it's 80 degrees and you are drinking on a boat 🙂