This post is all about my second trimester. I discuss how my interstitial cystitis is during this time along with all the pregnancy ups and downs.
Ahh, my second trimester. I am not far along into my third trimester, but I can already tell it's going to be a different ballgame than my previous trimester.
ALSO WE ARE HAVING A GIRL!!!! 💕🎀 Can't wait to get her allllll the bows! Baby girl clothes are literally the cutest and my mom and I have been buying her too many clothes already. Can't help ourselves!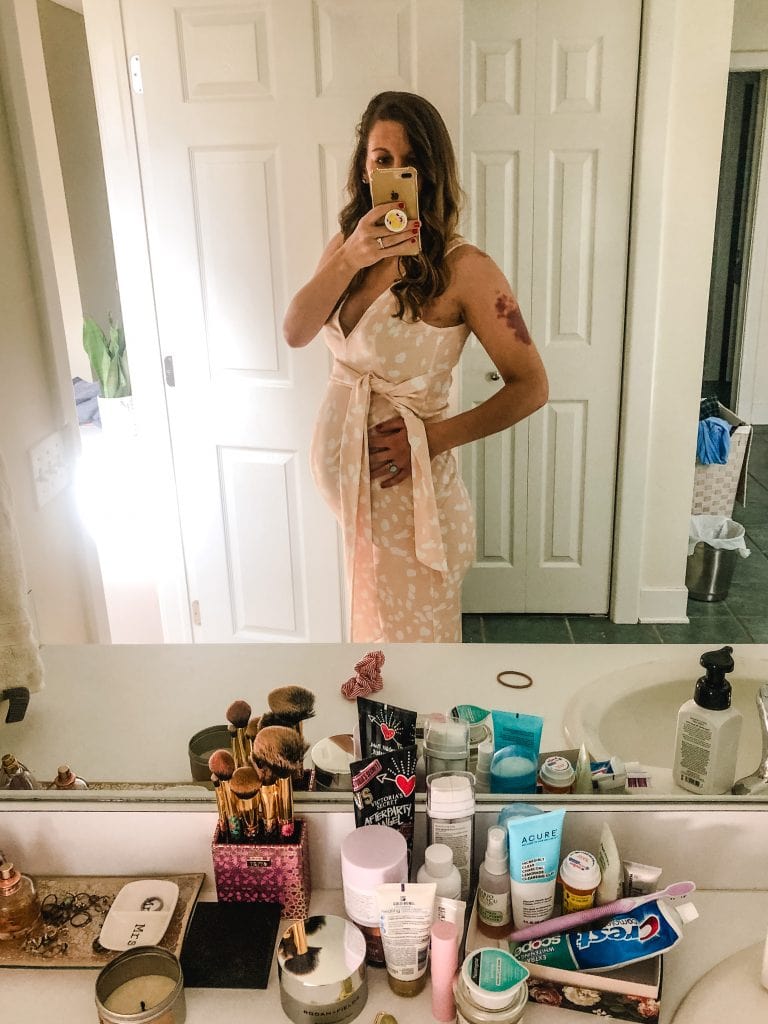 I revealed the gender on my Instagram account. Sean videotaped me popping our gender reveal balloon that was meant to be for my shower. I'm posting my dress here because it might be the only time I can wear it! It's from ASOS maternity and was under $50! Super stretchy and comfortable. I wore it around the house for a few hours after popping the balloon to get some use out of it lol.
I honestly 100% thought I was having a baby boy. I even dreamt about a baby boy, but turns out I was wrong! For those of you that know my dad, he wished me the best of luck and said I was "doomed" because I was not a good teenager. Is any teenage girl, good? It's only a few years, right? lol.
Feelings & Emotions
Looking back on my first trimester, I was so much more emotional than I thought. I would have times where I didn't want to do anything but just be alone in my room. It was so bizarre, but your hormones are raging during your first so I'm assuming it had something to do with that.
During my second trimester, I felt fantastic. My mood stabilized (for the most part, lol) and I often forgot that I was pregnant until I took a look in the mirror. I thought I was so big but looking back now, I wasn't at all.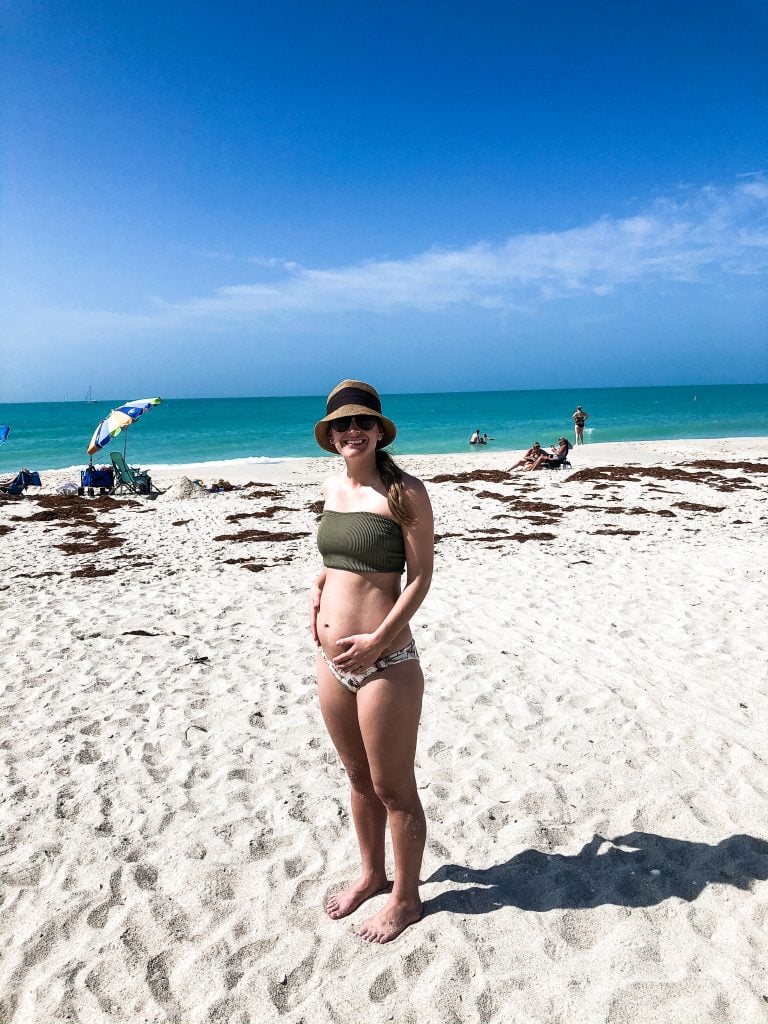 Interstitial Cystitis During Pregnancy
For those of you who don't know what interstitial cystitis is, check out this blog post. It's essentially inflammation of your bladder wall. It feels like you have a urinary tract infection (bladder infection), but there isn't actually any infection present. It's quite uncomfortable if you are in a flare up and your diet (most of the time) directly affects it.
Despite adhering to the IC diet for the most part, I would say that my bladder was very sensitive during my second trimester. I noticed it would be more sensitive for a week or two out of the month. I was trying to nail down a specific day and time, but it was too variable. My OB said that for some women their IC gets worse during pregnancy and some women do better. Mine overall, has been worse during pregnancy. It makes me super uncomfortable, but drinking water helps and frequent trips to the bathroom.
I wish the best of luck to women experiencing IC pain during pregnancy. I took some AZO pills to numb the pain a couple times but I would check with your doctor to make sure it's okay.
Diet & Exercise
I could run and keep doing my normal exercise routine for most of my second trimester. It wasn't until the end where I felt like my pelvic floor was about to give way and running became out of the question. My OB told me that you shouldn't lie on your back after 20 weeks, so I stopped doing ab work on my back a little before then. Lately, I've been sticking to pregnancy safe workouts from fitness experts! My go-to has been Lean Body Baby Prep on Instagram. It's been a great resource!
As far as my diet goes, it's pretty much back to normal with the exception of wanting to eat everything in sight. My go-to's have been cheese and carbs lol 😂. Toward the end of my second trimester we went into quarantine, so I've been baking around the clock and consuming a lot of chocolate and peanut butter.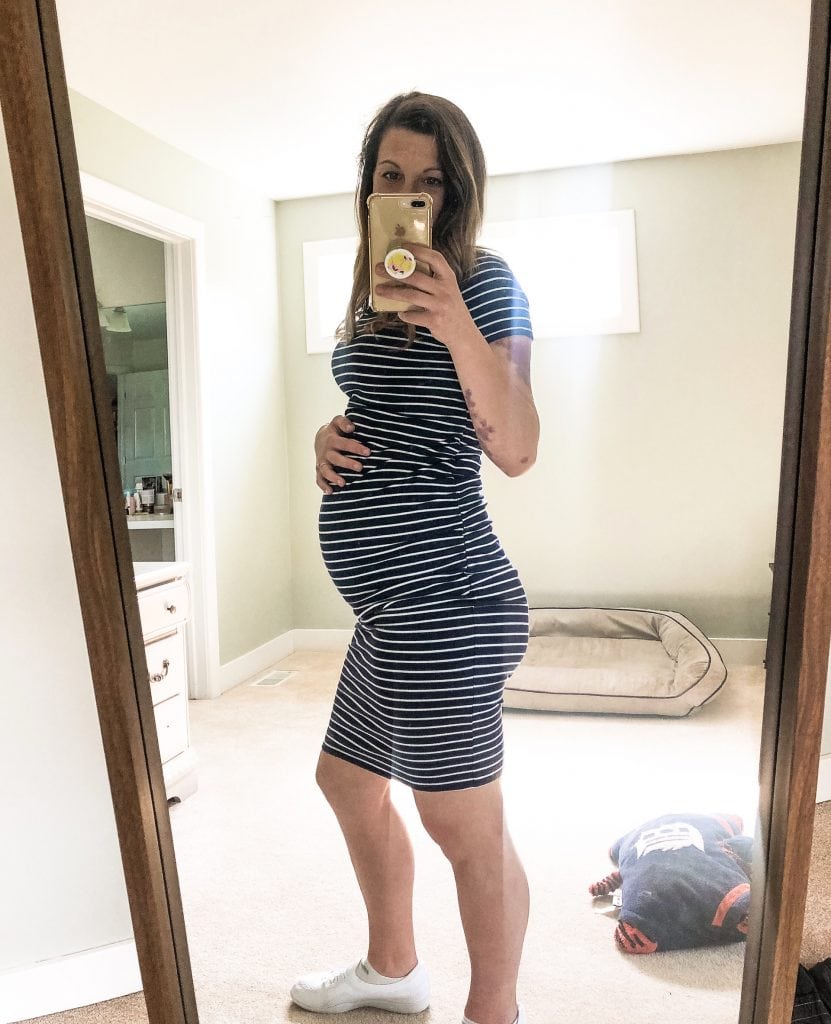 It feels weird writing about my second trimester when there are so many bigger things going on in the world. I hope that everyone is doing their best to stay safe, shelter in place and hunker down to beat this thing. <3