And just like that, we are done with May. How was your month? Time feels like it is flying compared to last month. We have been busy making the house a home and preparing for the baby. Oh and we finally got the kitchen remodel finished!
On the Blog
May has been a busy month here on MWM. No surprise that comfort food is still winning the game! Search results have increased for desserts and grilled items begin to heat up! Here are some of the top players from the month...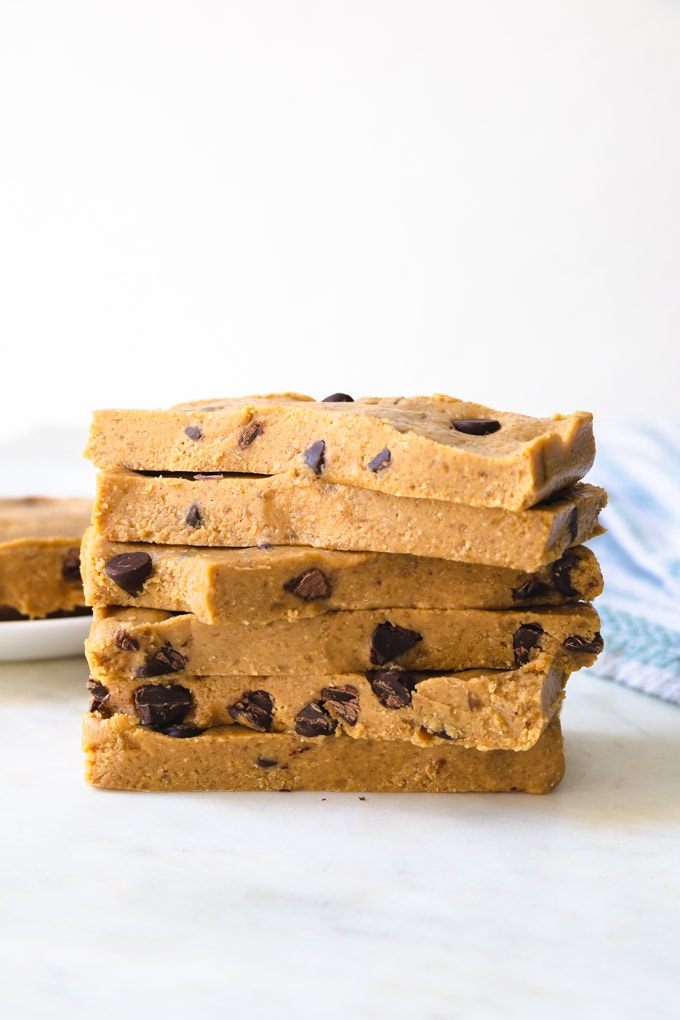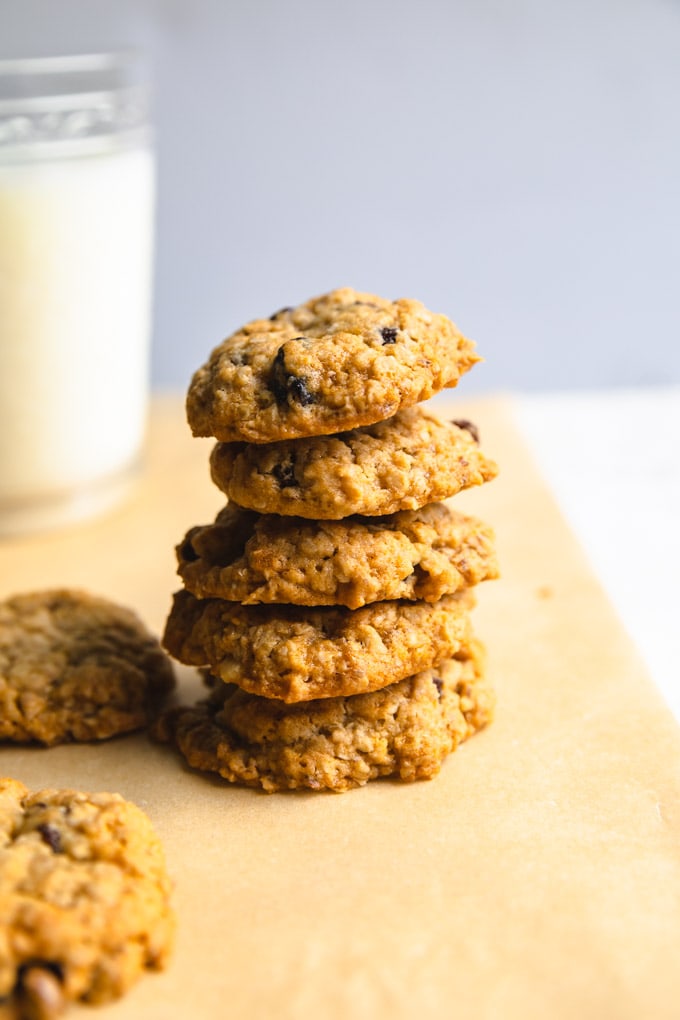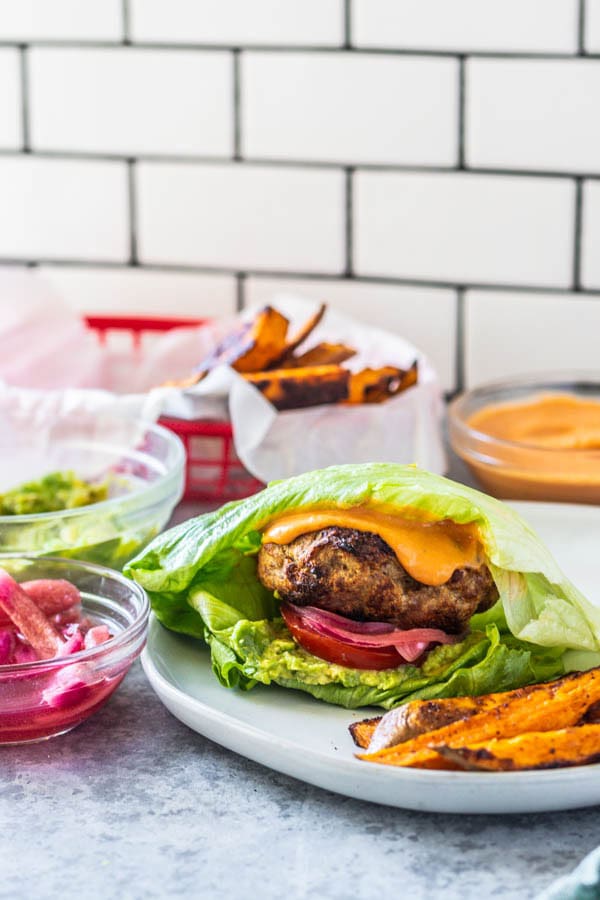 More recipes like these....
Life lately + Pregnancy things!
It has been a pretty hectic month in this household. Between getting the kitchen re-done (see next section!) and getting the house ready for the baby, we have been quite busy on the weekends.
Sean and I spent Memorial Day weekend pulling out garlic mustard weeds from our entire backyard. If you follow me on instagram, you'll know I've posted some pictures on the numerous bags we took to the invasive species dump. We didn't foresee us spending our weekend doing it, but I'm glad it's done.
Baby Prep
Other fun tasks that have been hanging out on my to-do list lately have been getting things ready for the baby. We installed the car seat and car seat bases (surprisingly this took us a while lol). We also watched takingcarababies sleep course for newborns, breastfeeding videos and CPR videos.
A few of my friends recommended waiting until closer to the due date to wash her clothes, but I just wanted to get it done. Fingers crossed I didn't shrink any.
The final thing we did was pack the hospital bags! Given the particular situation at the moment, the dad cannot leave the hospital once the mom is admitted. So Sean had to pack a bag too.
What to pack in a hospital bag?
Toiletries
Comfortable shoes/slippers to walk around the hospital in
Phone/Kindle/laptop chargers
Favorite pillow(s)
Socks/underwear/comfortable PJ's/robe
Sports bra (for wearing during labor)
Breast pump (I am bringing this just to have the breast feeding consultant tell me how to work it lol)
A folder for papers and pen
Baby book if you have one for little footprints or hands
Lotion/chapstick
Going home outfit for you, newborn outfit for baby (swaddle and/or onesies)
Magazine/books
Favorite snacks (I packed larabars and apples!)
Change for vending machine
Headphones if you think you will use them
Kitchen Remodel !!!
The kitchen remodel was probably stressing me out more than having a baby. Every decision was mine. I had multiple people in and out of the kitchen along with coordinating all of their arrival times so they wouldn't have to work on top of one another.
Overall, I am SOOOOOO happy with how it turned out. I made a few last minute changes (indecisive mind at heart), but I'm glad I did. Here are the jobs we had done:
Here is what we had done with the kitchen remodel...
Cabinets painted (best money spent)
Breadbox in corner removed
Backsplash removed and replaced with white subway tile and silver grout (1/16th inch space in between)
New hardware on cabinets
New quartz countertops around perimeter with new sink and faucet
Pendant lighting fixture above island removed and replaced with new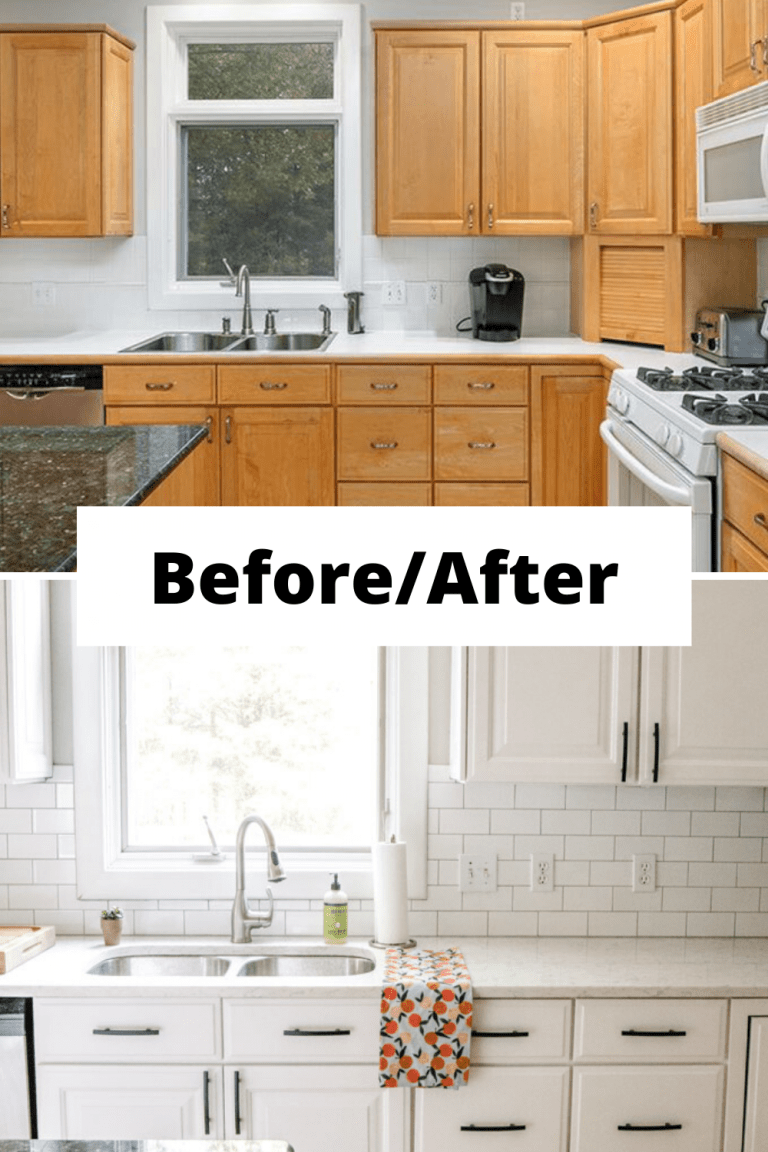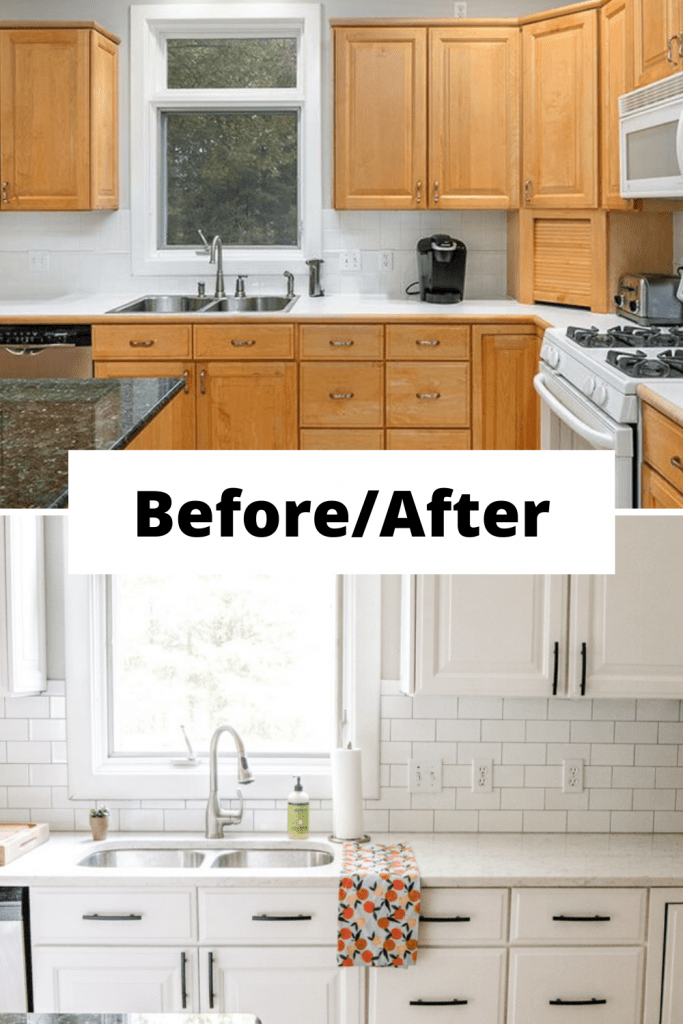 We had the maple cabinets painted by a local company, Phillips Painting LLC. Shawn did a terrific job, very professional and they were only in my kitchen for 2-3 days MAX. We have about 57 cabinets, so it's quite large. I wanted white cabinets and kept the island the same color. The photos don't show a large accordion door pantry and we have a desk area. They put on new hardware after painting the cabinet doors and we didn't have to lift a finger. Money well spent.
For the cabinet hardware, we heard from one of the contractors to go to The Basement Store here in the Grand Rapids area. They have a Facebook page but if you google it, it's literally someone's basement converted into a hardware store for discount prices. Since we had so many cabinets, hardware was getting pricy for what we wanted, so we found a curved edge handle for $2.25/each.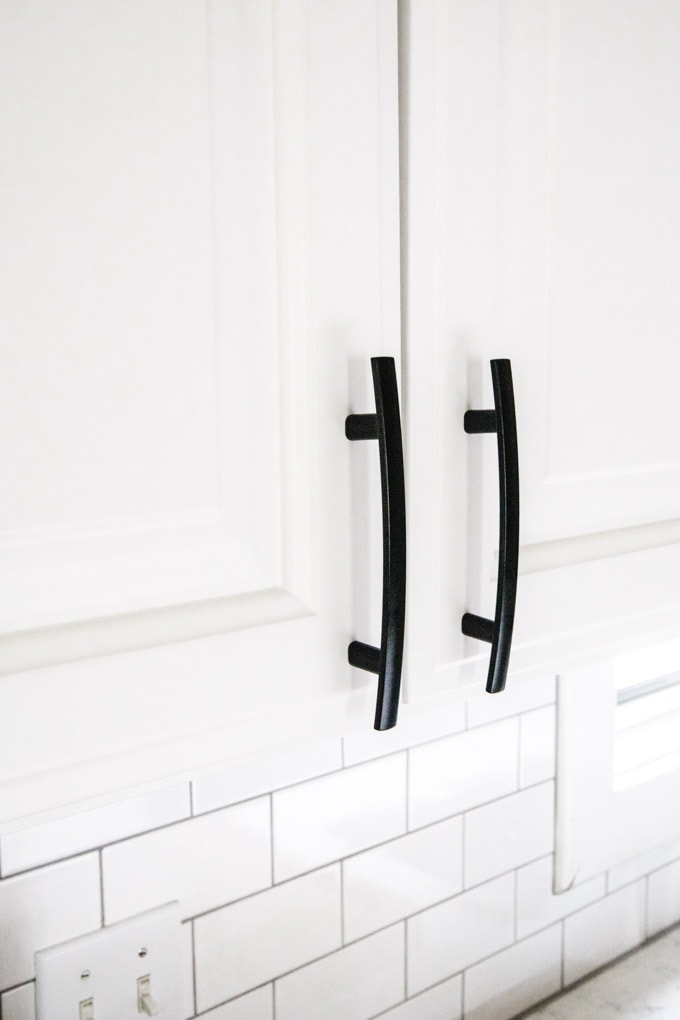 Also we heard the slight curved edge is nice because it doesn't catch clothes as much as the popular straight bar ones do!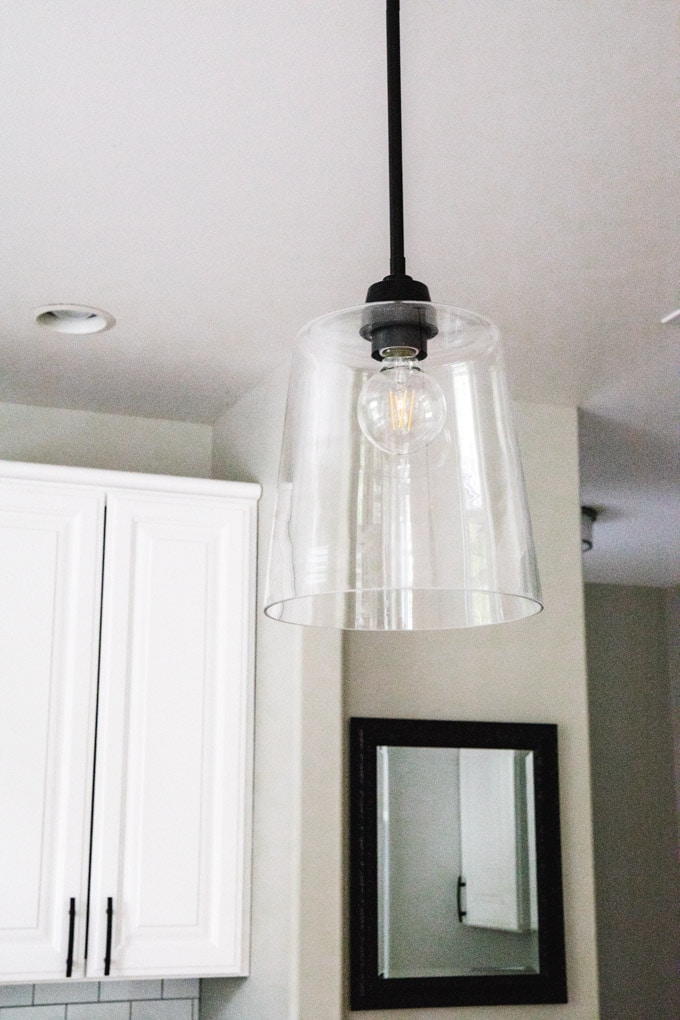 The previous owner had bright green pendant lights above the island installed. Those had to go and I picked up these affordable ones on Wayfair. They are called Allmon 1- light single bell pendant. They are on sale right now, but I think I snagged them for about $88/each.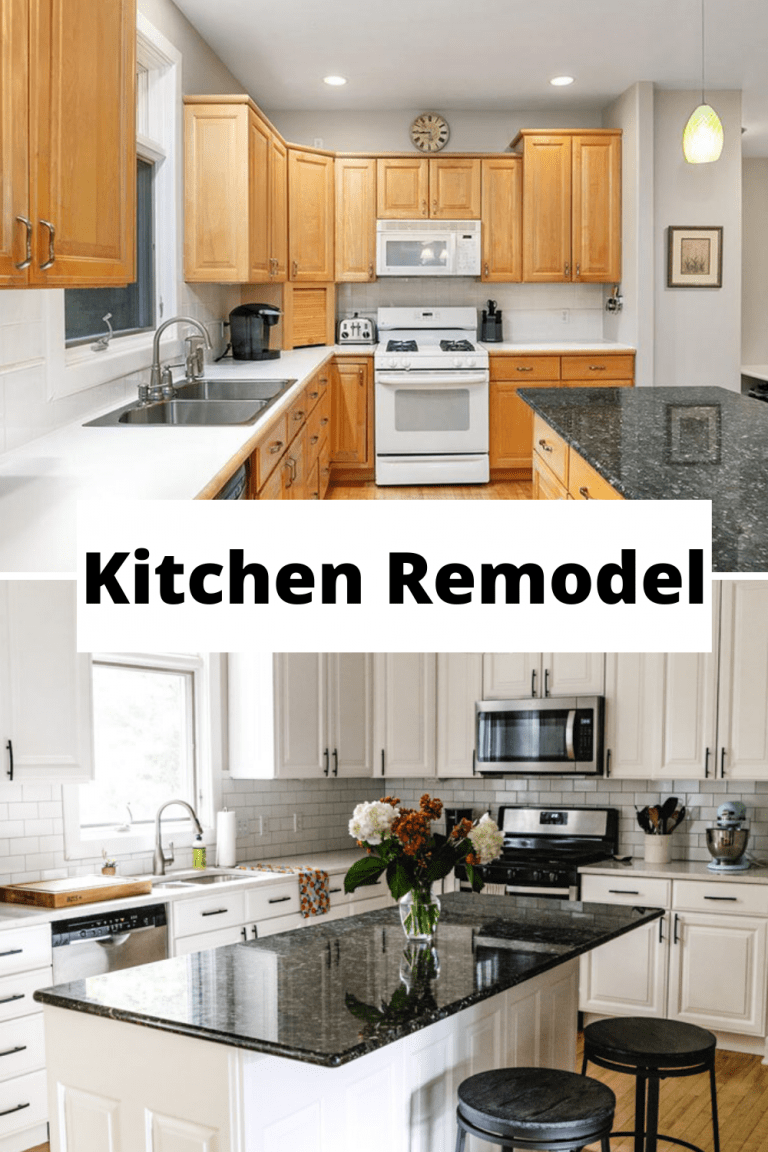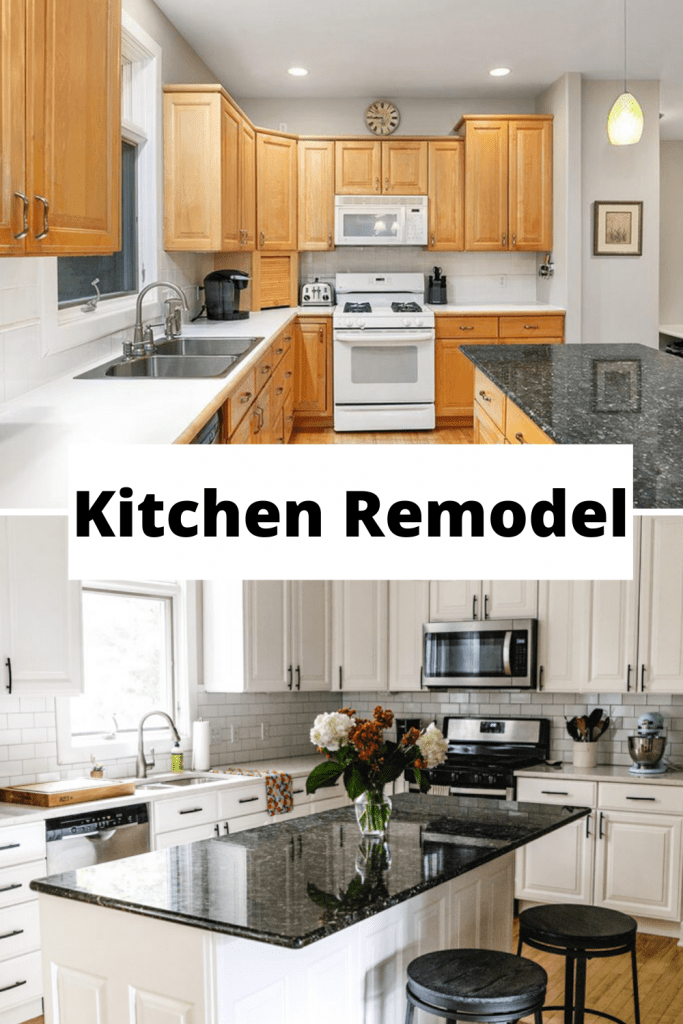 For the countertops I originally planned to have the island be the same color as the perimeter, but it was a last minute decision to stick with the black granite we had. I like the contrast and thought that the white on white with a white island would be too much. The barstools are also from Wayfair and are called Gracie Oaks Leka Swivel 24".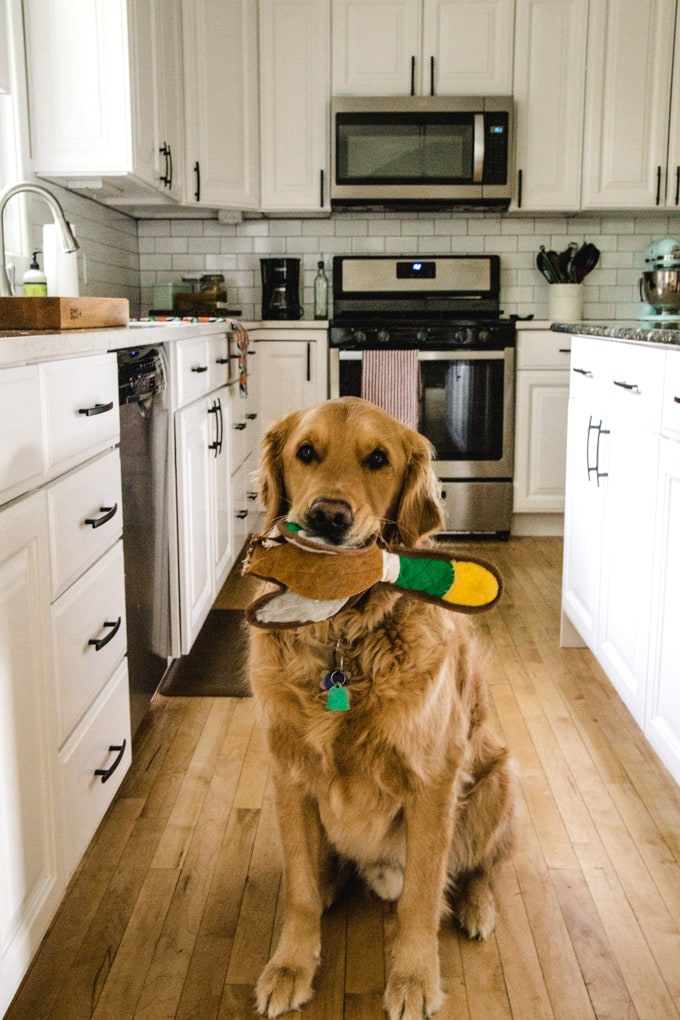 Overall, we are considering staining the hardware floors (in time). Not sure what color I would want to go with, but we have time to figure it out.
Hope you guys liked this post and enjoyed your month of May!
If you wanted to save any image of the kitchen to Pinterest you can click the little Pinterest P on the edge of the screen!